Book Review: Energy Use in Biointensive Book Production
from Carol Cox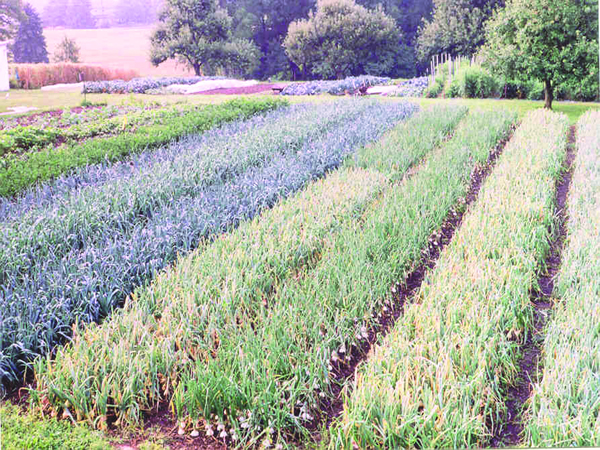 Photo: Highly productive Biointensive onion beds help illustrate energy efficiency in this book..
Energy Use in Biointensive Food Production, by Steve Moore. Ecology Action Self-Teaching Mini-Series #37, 2013. (Available from Bountiful Gardens: www.bountifulgardens.org)
Among the potential benefits for the Biointensive Sustainable Mini-Farming method are higher yields, lower water consumption, less fertilizer. It is fairly straightforward to weigh produce, measure water use, and keep track of fertilizers. It is not so easy to evaluate the total input of energy in farming systems.
Steve Moore, director of the Agroecology Program at Elon University in North Carolina, has been investigating this particular aspect of the Biointensive system. His new booklet in the EA Self-Teaching Mini-Series, Energy Use in Biointensive Food Production, evaluates the different forms of energy that contribute to food production. They include the calories of labor, the calories embedded in the tools we use, and the calories used in getting the food to our plates—processing and preserving. Two crops, onions and flour corn, serve to illustrate how the use of energy is calculated, with as little as 6% the energy being used in biologically intensive practices compared with conventional ones. Be sure to check out the energy efficiency of food preservation with fermentation, including sauerkraut!
REVISED PUBLICATION ALERT!

Test Your Soil with Plants by John Beeby.
Revised and updated, now with color photos, 168 pp. $21.00 at www.bountifulgardens.org.
Available October 15.
---
top | Newsletter Home | Article Index | Archive