Biointensive Farming at Elon University
by Steve Moore
Steve is a long-time colleague of Ecology Action and an Intermediate-Level GROW BIOINTENSIVE teacher and is currently the Director of Agro-Ecology at Elon University in North Carolina.

Elon University has a goal of developing the leaders of the future. The university engages in sustainable agriculture and, specifically, in Biointensive techniques. The newly formed Environmental Studies Department at Elon has set a clear vision for its development by hiring an Agro-Ecologist and a Green-Design Architect to its faculty. Elon's focus on the academic components of food and housing is supported by the prime importance of these issues in global sustainability and student interest. During my interview process at Elon I suggested that the only truly sustainable agricultural practice that I knew of, based on my 42 years of farming, was Biointensive (specifically GROW BIOINTENSIVE). In subsequent discussions, it became apparent that biologically intensive agriculture matched student interest as well as faculty and administrative expectations. I was fortunate to be hired as the Agro-Ecologist and began a process of program and facility development.The first ENS class to participate in the development of Elon University's Loy Farm Land Lab.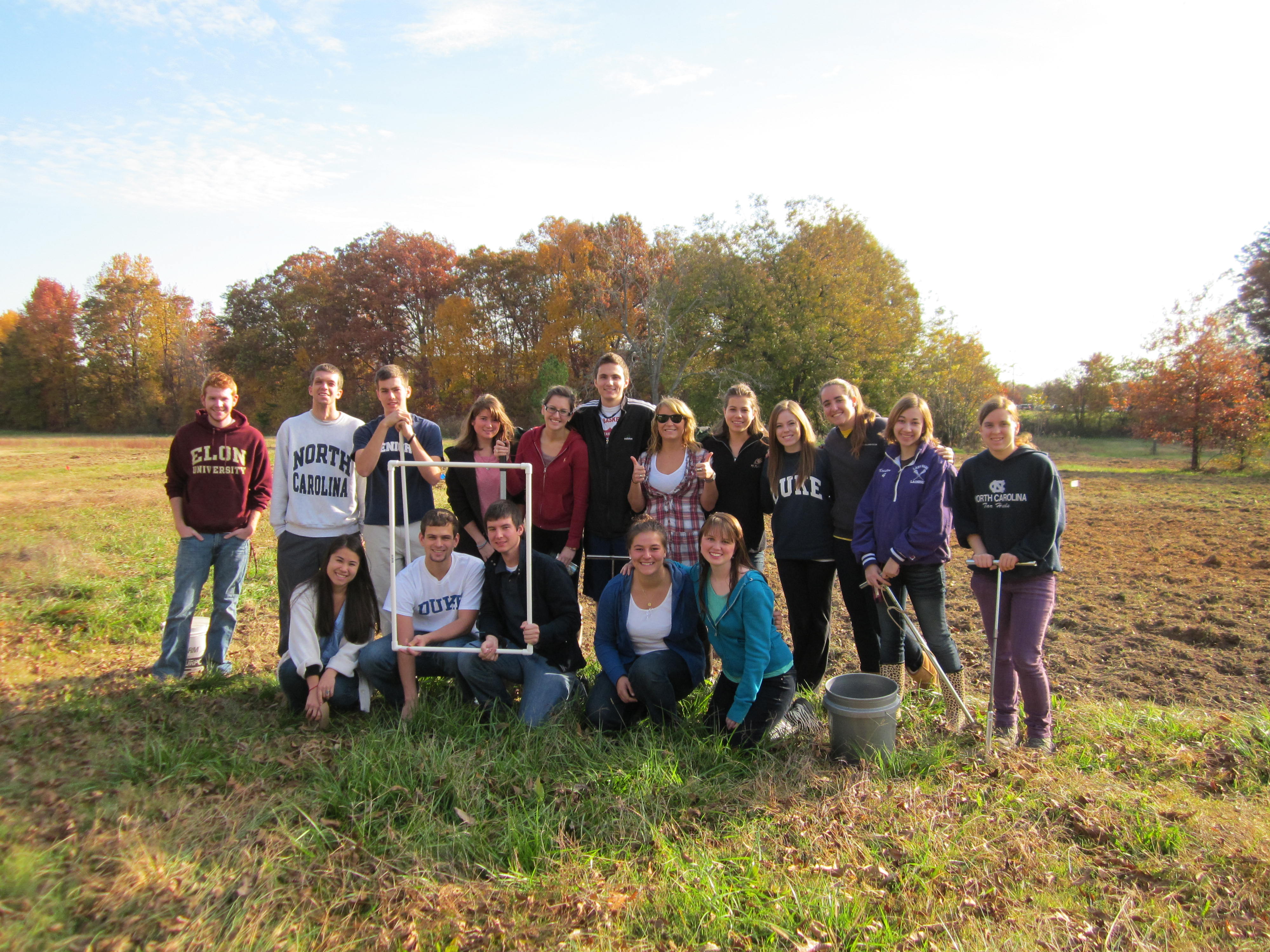 The Environment Nature and Science Department (ENS) petitioned the University and received a 40-acre tract of land for sustainable agriculture, a green design studio and other ENS needs. This area is now in development with the basics of composting toilets, a solar-heated greenhouse, irrigation, tool sheds, teaching areas and so on. Students are taking a prime role in facility development via academic courses, independent research and internships and volunteer opportunities.

There are a number of program areas under development:
A degree concentration in Sustainable Agriculture and the corresponding course development. The inaugural course this spring (2012) in Biointensive Production went well with a high level of student interest. Additional core courses will include Solar Greenhouse Design and Production (Fall 2012), Permaculture (Spring 2013) and Agro-Ecology. Additional supplemental courses will be developed and offered.



A proposed Pre-Peace Corps Track. Discussions are progressing nicely to form a Memorandum of Cooperation between Elon University and the Peace Corps. It is believed this agreement will better train students for service within the Peace Corps and give them a significant edge in admissions.




University and ENS Department community outreach and programming in sustainable agriculture (via The Elon University Center for Environmental Studies). A major community event is already scheduled for this year: a Fall Forum, bringing stakeholders from the Northern Piedmont Region of NC together to develop a sustainable food system for the region.


Hunger intervention via the Campus Kitchen program. Elon recently joined other higher education institutions in a new national program to help meet local community food needs. Getting food to those who need it is accomplished in three ways: growing food, seeking donations, and re-purposing food that might go to waste.


Seeking certification as a GROW BIOINTENSIVE Mini-Ag Center/Soil Test and Demonstration Center. Elon may develop the first of many global grassroots networks of teaching, demonstration and research sites that empower communities with food sovereignty and true sustainable development.


Building global partnerships for student intern opportunities. Seventy-one percent of Elon students study abroad. Partnerships are forming to provide opportunity for student engagement and service learning in sustainable ag centers, nutrition improvement and hunger intervention.


Adding a new thread to the teaching component by providing instruction in food, gardening and nutrition. The Elon Academy is an intensive college access and success program for local high school students with high financial need or no family history of attending college. It combines a month-long residential program over three successive summers with follow-up experiences during the academic year. The Academy is a multi-year, year-round program beginning in the summer after the ninth grade and continuing to and through college. A new thread in this program will be food and nutrition.


Integrating food production and the built environment: In an increasingly urbanized world, Elon (specifically the ENS Department) is uniquely poised with a proposed pre-architecture program and sustainable food program to integrate these two areas in unique and synergistic ways to meet human needs and the goals of sustainable development.
As you can see, a lot is underway at Elon University. The University has been tremendously supportive in a great many ways. In addition to this in-house support, the ENS Department is seeking additional outside funding. Taken all together these initiatives are a very exciting beginning, and it looks like agro-ecology and Biointensive have found a great home here.

For information about Elon University, see www.elon.edu or contact Steve Moore, Director of Agro-Ecology, ENS Dept., Campus Box 2015, Elon University, Elon, NC 27244. Or e-mail Steve at smoore24@elon.edu.


---
top | Newsletter Home | Article Index