A Success Story from Common Ground for Africa
By Joshua Machinga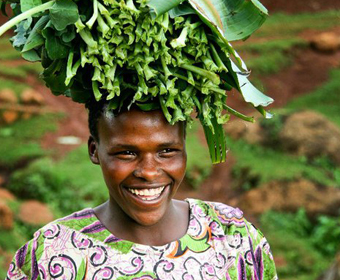 Image: Clare, a Biointensive Success from Kenya.
Joshua Machinga was a six-month intern at Ecology Action's Mini-Farm in 1995 after graduating from Manor House's two-year Biointensive Agriculture program. Joshua went on to establish Common Ground for Africa (http://www.commongroundforafrica.org/) whose mission is to demonstrate in a concrete, observable way that modern human societies can live sustainably and comfortably with nature. Joshua recently sent us this story of the difference using GROW BIOINTENSIVE has made in one family's life.
Clare was struggling to feed herself and her children; there was never enough. She didn't have a clear understanding of nutrition or how to increase her crop yields, and she was laboring on her farm alone. After receiving seeds from Hope Seed, a Christian non-profit organization (http://hopeseeds.org/), her husband became interested in cultivating a few varieties and eventually resolved to join his wife working on the farm. He decided to resign as a security guard to concentrate on farming using the
GROW BIOINTENSIVE
method. Now he works on the farm six days a week.
Clare's husband took part in one of Common Ground's agricultural training sessions and learned about the benefits of using raised beds, planting in diagonal offset spacing, and the importance of crop diversity. As a result, the family no longer struggles to find food every day.
In fact, Clare and her husband now have three workers farming the land and taking care of their two dairy cows, which they were able to purchase by selling surplus food grown on the farm. In addition, they have plans to sell at the local market. What a wonderful example of what can be realized by investing in family farming: the community is empowered, livelihoods are improved, and hunger can be eradicated.
---
top | Newsletter Home | Article Index | Archive