Growing to Seed (Ecology Action Booklet #13)
by Peter Donelan (Ecology Action, 1999).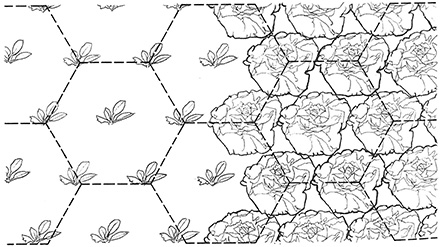 Image: Hexagonal Spacing Illustration by Sue Ellen Parkinson from "The Sustainable Vegetable Garden".
How to grow all your own seed in the smallest possible area in your own backyard. Maintain optimum health and genetic diversity in your seed stock! Seed-saving information is organized in a detailed chart. In addition to the usual figures for germination percentage, isolation distance, and seed viability, the chart gives the recommended Biointensive spacing for seed plants and the amount of space needed to grow the minimum number of plants required to maintain genetic diversity. Using the data in the chart, you can figure out how much seed you need for a given area and how much area to plant in order to produce that seed. The chart includes vegetables, grains, and compost crops, organized by family.
The Spanish language version, Cultivo de Semillas, is available as a PDF. To download a free copy, click here.
---
top | Newsletter Home | Article Index | Archive