Nine Mondays Summer Course 2015
By Matt Anderson, EA Videographer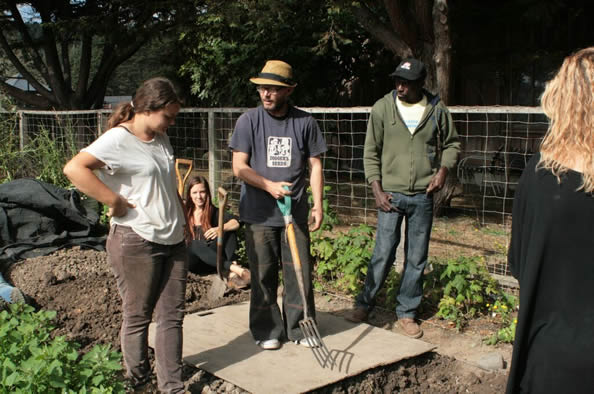 Image: Double-digging demonstration at Green Belt Mini-Farm
PHOTO BY MATT DREWNO
This summer saw the creation and presentation of a summer course that ran for nine Mondays. Matt Drewno created and presented the curriculum. In addition to John Jeavons, guest teachers included Eric Buteyn, former staff person, and by means of webinars: Samuel Nderitu from Kenya, Steve Moore of Elon University in the US, and Juan Manuel Martinez from Mexico.
Starting in June, about a dozen people converged at The Jeavons Center for a special summer course led by Green Belt Mini-Farm Manager, Matt Drewno. In addition to the more "seasoned" staff people, participants included Paul Higgins, Farm Coordinator at the Common Ground Garden in Palo Alto, and Colby Halligan, newest Farmer at The Jeavons Center. Herve Alcinor of Haiti, MESA Steward at the Golden Rule Mini-Farm, also attended.
Over the next nine Mondays, Matt and the Ecology Action staff instructed the attendees in a comprehensive overview of the eight principles that under-gird the GROW BIOINTENSIVE method. I filmed the first few classes and was delighted to see people grow in their knowledge and ability. We engaged in some thoughtful and dynamic class discussions and shared insights about particular problems people were having in their gardens.
What struck me most were the range of people's backgrounds and the diversity of their plans. It is often surprising to see the many ways people apply the knowledge taught at Ecology Action to their projects: whether that's a small backyard garden, integrating GB into their Permaculture project or teaching farming fundamentals to city kids.
From my perspective, the Nine Mondays Course was a phenomenal success, bringing locals together to share their knowledge and sharpen their skill-set. Matt Drewno has created an impressive curriculum that will undoubtedly continue to be a valuable addition to the work of Ecology Action.
To see a schedule of Ecology Action's tours, workshops and other events, click here.
To see our self-teaching section, where you can download a free GROW BIOINTENSIVE Farmer's Handbook in several languages, or can watch our how-to videos, click here.
So see a list of current classes for Common Ground Garden in Palo Alto, CA, click here.
---
top | Newsletter Home | Article Index | Archive