Tool: Piteba Home Oil Press
Available through Bountiful Gardens online or call to place an order.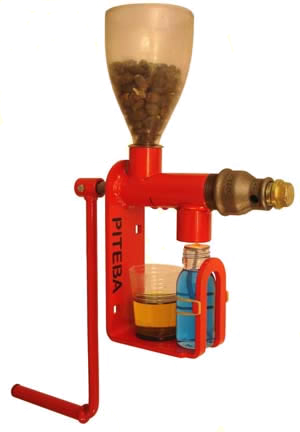 Image: Piteba Home Oil Press
Edible oils and fats are essential for good health. One previously unmet, self-sufficient home need has been the ability to extract oil effectively using a relatively simple and inexpensive device.
This home oil press was developed for use in areas without power. A manually operated expeller, it can process up to 2 liters of oil per hour. It's considered a cold press since the press cage temperature will usually be below 122-158°F (50-70 centigrade). This helps maintain the oil's natural flavors. Approximately 8 x 5 x 2.5 inches.
You can purchase this oil press from Bountiful Gardens separately (click here) or with with a collection of seeds to grow oil-producing crops (click here).

---
top | Newsletter Home | Article Index | Archive