RhythmicWater SeedBank to Launch
By Matt Drewno, Green Belt Mini-Farm Manager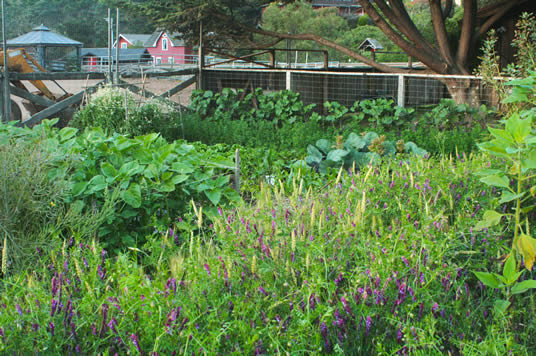 Image: Wheat, vetch, sunflowers, quinoa, cabbage, and tree collards grow at the Green Belt Mini-Farm.
PHOTO BY MATT DREWNO .
Ecology Action's Green Belt Mini-Farm is happy to announce the creation of a groundbreaking seed bank, which will contribute greatly to the resilience and food security of Mendocino County. After four years of growing organic, open-pollinated seed and saving traditional vegetable varieties and not-so-traditional grain varieties, the RhythmicWater SeedBank will open to the public in 2016.
People will be able to utilize the SeedBank's seeds for food production and their own seed-saving efforts. Classes will be held for those who want to contribute to the SeedBank, to help guide them through the process of preserving heirlooms or developing their own varieties.
In April 2016, the RhythmicWater SeedBank will celebrate its opening with a full-day GROW BIOINTENSIVE® workshop at the Green Belt Mini-Farm at Stanford Inn Eco-Resort in Mendocino, California. All proceeds will go to the Redwood and Dana Gray Elementary School Garden Programs.
In 2017, we plan to offer a Certified Seed Savers Program with the goal of elevating community participation in the SeedBank and engaging others in protecting genetic diversity, enhancing seed vitality, increasing storage capacity, and contributing to the overall ecosystem of the garden. The SeedBank has already begun accepting organic, open-pollinated seeds and donations and has signed the Open Source Seed Initiative*.
Recognizing that seeds are both a vital resource in our local food system as well as a timeless symbol of peace and prosperity, the RhythmicWater SeedBank hopes Mendocino County will encourage seed saving and build a stronger community of seed savers. These relationships are vital to maintain secure food systems, pure seed inventories, access to healthy germplasm, and representation in the political domain for food and seed sovereignty.
The SeedBank is currently accepting donations for seed-saving equipment including labels, jars, desiccant, seeds, and other seed-saving supplies. For more information on the SeedBank, GROW BIOINTENSIVE gardening classes, or donations, please visit https://rhythmicwater.wordpress.com/ or email Matt Drewno at rhythmicwater [at] hotmail.com.
*The Open Source Seed Initiative (OSSI) is dedicated to maintaining fair and open access to plant genetic resources worldwide... OSSI is engaged in education and outreach that promotes sharing rather than restricting access to germplasm (the living genetic material used for plant breeding and preservation), revitalizing public plant breeding, integrating the skills and capacities of farmers with those of plant scientists, recognizing the work of plant breeders of all kinds, and supporting a diversified and decentralized seed industry. A key tool for achieving these goals is development of a pledge to preserve the unencumbered exchange of plant germplasm for breeding purposes and the right of farmers to save and replant seed…" (www.osseeds.org)
To learn more about seed saving, visit The Organic Seed Alliance at https://www.seedalliance.org/
---
top | Newsletter Home | Article Index | Archive