The Two-Month Internship, 2012 Season
by Ryan Batjiaka, Assistant Garden Manager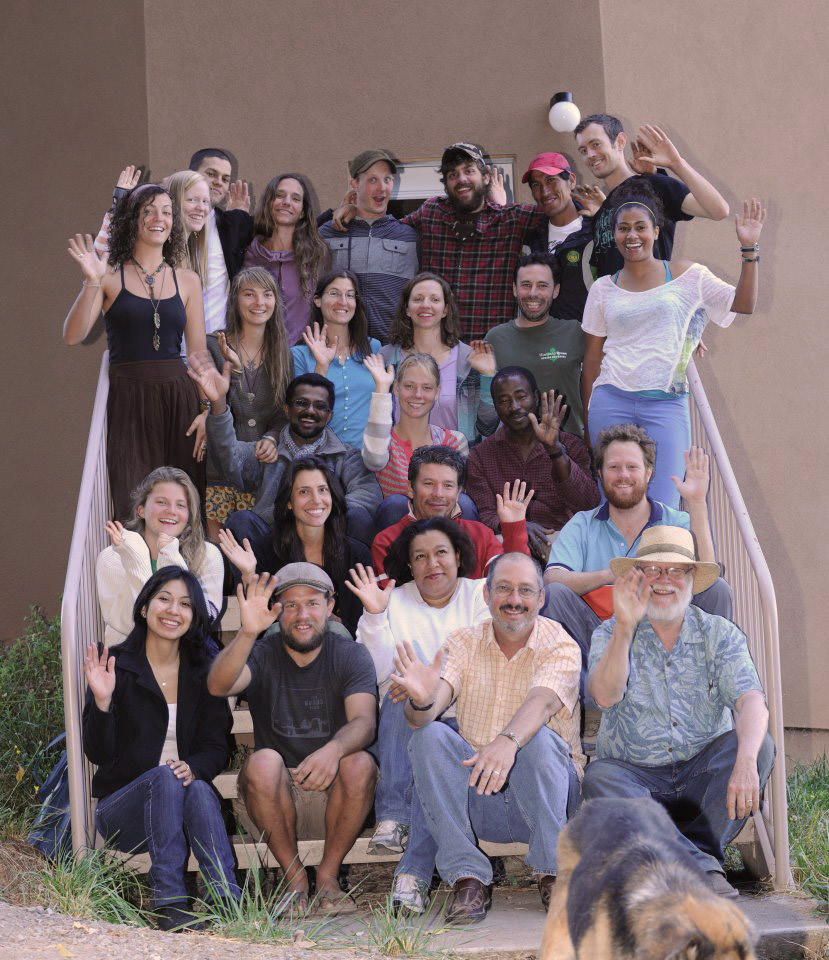 Ecology Action was buzzing with more energy than usual recently. From June 15 to August 15 interns from all over the US came to learn the basics of GROW BIOINTENSIVE and develop projects they have back home. This two-month internship is a completely new program that we started this year as a way to reach out to people who might not be able to come for the six-month internship we hold every year. Our nine two-month interns joined eight six-month interns for a total of 17 interns this season.

It has been an honor to work with all the motivated participants in the two-month program. Not only were people passionate about agriculture, but they were all creating or honing existing projects in their communities. While they were here, they not only had a chance to learn the GROW BIOINTENSIVE method, but were also able to see how other interns were addressing food issues in their communities, both in the US and abroad. The program was a mixture of classroom study, work in the gardens, field trips to small-scale farms and project development. Below you can read a very short biography of each of the interns.

Vincent Fedeli
I grew up in Ohio, worked on organic farms in Italy, studied solar PV, and went to New Orleans as an AmeriCorps volunteer. I now work in the Lower 9th Ward of New Orleans with the non-profit Center for Sustainable Engagement and Development (CSED). The Lower 9th Ward is considered a food desert. CSED believes there is a unique opportunity to develop an Urban Mini-Farm that will increase the availability of fresh food and create educational and economic opportunities for local residents. Part of my job is to help build this Urban Mini-Farm.
Kimberly Leann Hargrave
I was born in Southern California, received a BA in International Relations/Global Studies, have lived in Peru and Nicaragua and have witnessed different and diverse realities. I have come to care about animals and terrains I have never seen. In the more immediate future I want to be an asset to the development and sustained use of the new campus garden at the University of the Pacific. My long-term goals are to apply my agricultural knowledge to assist communities worldwide in meeting their basic needs.

John Keleher
I grew up in the Midwest, majored in computer science in college and, through other studies, came to realize that food was my most significant interaction with the world around me. I was diverted from following this path for a while by scholastic and professional opportunities. However, I did have a plot in a community garden and engaged in many broad sweeping food issues. I've dreamed about developing the skills to grow nearly all the food for my nutrition and the soil. More importantly, Biointensive skills will help me lead by example among my network of agricultural communities, food activists and friends.

Leilah Krounbi
My fascination with farming began in high school, during a trip to my father's village in eastern Lebanon. Since then, I've passively and actively experienced farming in a variety of climates and soils including the red, iron-rich sand dunes near the coast of Israel, the dusty loess soils of the Negev Desert in Israel, and the degraded calciferous mountain soils of Haiti. My BS degree is in Soil and Water Science, and I recently completed an MS in Desert Studies in Israel. I am interested in learning how to improve crop yields in small-scale, low-input farming systems, specifically in environmentally stressed and resource-poor landscapes.

Sarah Meekins
I come from the Outer Banks of North Carolina and am currently a student at Appalachian State University, majoring in Sustainable Development/Agro-Ecological Systems. It is my dream not only to grow food in an environmentally friendly way, but to re-educate my hometown community on the importance of knowing where your food comes from and the benefits of eating fresh local food. My overall goal is to develop a community garden for Dare County, where all members of the community can have a plot, attend educational demonstrations free of charge and interact with other community members interested in eco-friendly, local agriculture.

Aquillon Hetrick
I have been passionate about bringing naturally grown whole foods into this world since I was very young. When I was 8, I studied at the Sacramento Waldorf School, where there was a mini-farm, and I learned the basics of Biodynamic farming. After I graduated from high school I traveled with my mother to Europe, India and Nepal. I'm now studying at the University of the Pacific. My prime motivation for this internship is to gain knowledge about the Biointensive method. I believe the Biointensive form of agriculture is really our only option left if we want to survive. I want to bring this awareness to the students of the University.

Karen Adler
I am an agro-ecologist in need of more hands-on training with small-scale agriculture. I was exposed to organic farming when I apprenticed on an Italian Biodynamic farm and was introduced to conventional agricultural practices and large-scale production through a job at UC Davis. It gave me insight into the type of environmental problems that result from this kind of production. For my MS thesis I worked with small-scale farmers in Ethiopia. This gave me a clearer picture of the hardships of subsistence agriculture. Now I would like to shift my focus back to small-scale, sustainable urban agriculture and gardening by working with organizations that teach members of the community how to grow food.

Tracie Troxler
I was born and raised in Florida and have lived the last 13 years in California. For ten years I studied and practiced as an occupational therapist. I incorporated gardens into rehab whenever possible and always remember the shift I saw in people when we worked outdoors and specifically in garden settings. I started volunteering, first in local school gardens, eventually helping install solar panels for low-income families. This led to my present employment with a solar electric system company. This is still a few steps removed from where I want to be. I believe that many of the solutions to the world's problems can be found in food issues.

Chelsea Westra
I grew up in Miami and interned at two hospitals during high school, where I first noted how little most people knew about nutrition. When I started college I studied nutrition, worked on the school farm and took agriculture courses. Over summer break I worked on an organic farm as a WOOFer. I see now that these opportunities have helped me understand the inherent link between agriculture and health. I am now aware that establishing a positive relationship between how we treat the land and how we treat ourselves is crucial and that proper cultivation of land will ultimately lead to a healthier lifestyle worldwide.
---
top | Newsletter Home | Article Index