Wall to Wall: A Natural Building Workshop Series
By Matt Anderson, Videographer for the Fall and Winter Movie
and GROW BIOINTENSIVE Videos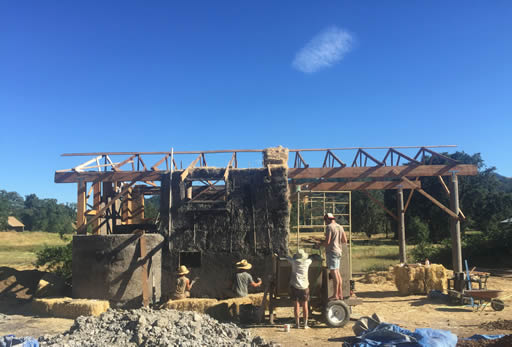 Friends and volunteers plaster the south wall.
PHOTO CREDIT: Matt Anderson

---
In 2012, my wife Renata and I packed our belongings into our car and set out from Los Angeles to find a different way of life. This quest became a multi-year odyssey of exploration to find communities involved in more gentle and sustainable practices. Along the way we met and lived with many new friends who gave us the inspiration and courage that we too could leave behind the 'treadmill' and start living differently.

For a couple of years we continued to travel, looking near and far for the perfect place to settle. Between voyages we stayed as guests with our gracious hosts, the Jeavons family in Willits, California. It wasn't until a longtime local resident, RJ Jergensen, stood up at a community meeting, that it all clicked. He said: "Make the place you are the place you want to be." It was then and there that we knew we had found our place. What we hadn't realized was that it was our effort that would make it the perfect fit.

We were inspired by our friends in the Natural Building community to build our own house. The main problem was that we weren't builders. We decided to reach out to our friend Michael G. Smith and ask if he might guide us through the process. He recommended using a series of workshops to get the bulk of the building done. With that as inspiration we set out to hold a workshop series called 'Wall to Wall: A Natural Building Workshop Series' at the historic Ridgewood Ranch.
In May and June 2016, dozens of students came out to learn, practice and help us build what would be our home, in an old blackberry patch. For the next month or so we hoisted poles and beams, laid an earth bag foundation, stomped out batch after batch of cob, raised a couple of straw bale walls, tamped light straw clay into wall cavities and plastered it all. By the end of the series we had built most of our small home and made many new friends. It was truly a joy to actualize something many people dream about and to really put our ethics into practice.
As I look around the house now (having just moved in!), I am surrounded by local natural materials put together by the hands of many wonderful people. The clay we used was from the site. The crushed sand came from a quarry we can see from the house. The timber is almost entirely from discarded logs that came down in a forest fire a few years back. And the trusses that hold up our roof and the siding that keeps us dry are from a hundred-year-old chicken coop recently taken down on the ranch.
In the context of living in a community that strives to feed itself, we are so proud that our contribution can be a humble example of how you can house yourself using natural and local materials. And let me tell you, to sleep in a house you helped to build brings some of the best (and most needed) rest I've ever had…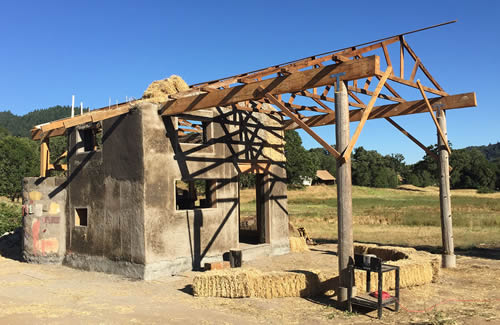 The plastering is complete.
PHOTO CREDIT: Matt Anderson
---
top | Newsletter Home |Table of Contents| Archive