Book Reviews
By Ecology Action Staff
---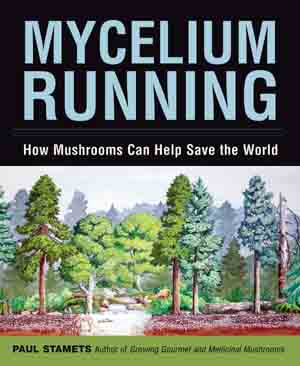 Mycelium Running: How Mushrooms Can Help Save the World by Paul Stamets (Ten Speed Press, 2005).

Available through Bountiful Gardens.
Mycelium Running is a manual for the mycological rescue of the planet. That's right: growing more mushrooms may be the best thing we can do to save the environment, and in this groundbreaking text from mushroom expert Paul Stamets, you'll find out how.
Microscopic cells called "mycelium"—the fruit of which are mushrooms—recycle carbon, nitrogen, and other essential elements as they break down plant and animal debris in the creation of rich new soil. What Stamets has discovered is that we can capitalize on mycelium's digestive power and target it to decompose toxic wastes and pollutants (mycoremediation), catch and reduce silt from streambeds and pathogens from agricultural watersheds (mycofiltration), control insect populations (mycopesticides), and generally enhance the health of our forests and gardens (mycoforestry and myco-gardening).
In addition to all the benefits listed above, Stamets discovered how to increase yields. When he planted broccoli and Brussels sprouts with sawdust mulch inoculated with elm oyster mushroom spawn, the yields were 4 to 6 times those of beds without the mushrooms. And there were also choice edible mushrooms! Inoculating seeds with mycorrhizal fungi helps plants gather nutrients and prevents parasites. For more information visit
www.fungi.com
---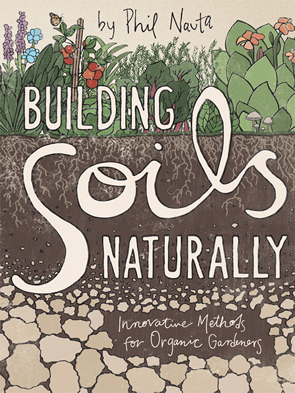 Building Soils Naturally: Innovative Methods for Organic Gardeners by Phil Nauta (Acres USA, 2012).

http://www.goodreads.com/book/show/15774675-building-soils-naturally
This book is intelligent, interesting, and reader-friendly. The author has a great appreciation for the inhabitants of the soil, as well as the plants that live there. He knows his science and presents it in a way that should be understandable to most readers.
Nauta describes his book as being about "growing the most nutrient-dense foods and plants as possible," and follows this up by detailing a variety of ways to feed the soil and give the plants what they need to promote a healthy soil food web. These range from organic matter, compost, and microbial inoculants to soil energy. He talks about synthetic products such as pesticides, chemical fertilizers and GMOs, and their effect on the soil. The book has a section on common weeds and what they can tell us about the condition of the soil they're in. A former Ecology Action Mini-Farm Manager describes this book as "a very thorough resource that succinctly covers a lot of topics."
---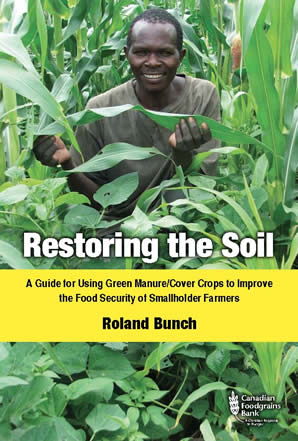 Restoring the Soil: A Guide for Using Green Manure/Cover Crops to Improve the Food Security of Smallholder Farmers
by Roland Bunch (Canadian Foodgrains Bank, 2012).
This is a practical manual for agricultural development personnel, a synthesis of the author's over-40 years of field-based experience in Latin America, Africa, and Asia. The author states: "[A] soil fertility crisis is approaching. It will affect the whole world, but the lowland, drought-prone areas of Africa will be the hardest hit."
African farmers used to leave part of their land fallow to restore soil fertility, but can no longer do so because of population pressure and many other current challenges that have greatly diminished the amount of land each farmer has and the yields that can be grown. In Bunch's experience, green manure and cover crops (gm/cc) can provide the needed fertility, not only in Africa but also in Asia and Latin America. He describes, for development workers, the factors that will influence small-scale farmers to choose these crops. He also includes "The Decision Tree," a complex but self-explanatory graphic and guide for deciding which gm/cc would be most useful for a farmer in his/her specific growing situation. Ninety-one cropping choices are offered, including the countries where they have been the most beneficial. This book, at fewer than one hundred pages, has a great deal of information useful for both development workers and farmers.
To download a free copy, click here
---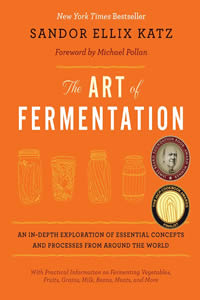 The Art of Fermentation: The Art of Fermentation: An In-depth Exploration of Essential Concepts and Processes from Around the World by Sandor Ellix Katz (Chelsea Green, 2012).
Available through Bountiful Gardens.
This book is so rich and comprehensive that it's difficult for a review to do it justice. Even before the author begins his exploration of the amazing bounty of fermented food and drink that exists, he speaks for the microbes that make all of this possible, and the ways in which humans and microbes coexist. He points out that the word "culture" is used to describe both the fermenting product of microbes and the higher attainments of humans. 
Katz calls his book "a compendium of fermentation wisdom" that he has collected. Not only does it contain information on fermenting a huge variety of vegetables, grains, starchy tubers, beans, seeds, nuts, milk, meat, and other natural products less familiar to us, but it also includes fascinating stories that he collected at the same time from cultures (in both senses) around the world. Katz then goes on to talk about non-food processes that this reviewer would never have connected with fermentation: in medicine, bioremediation, waste management, energy production and the disposal of human bodies, among others!
At almost 500 pages, this book is truly a one-stop-shopping bonanza for both beginning and experienced fermenters, as well as armchair travelers and people who like to explore good eating or a different way of understanding the many levels of the world we live in. In his Foreword, Michael Pollan says, "...Sandor Katz writes about the transformative power of fermentation with such infectious enthusiasm that he makes you want to try things just to see what happens."
---
top | Newsletter Home | Article Index | Archive