3-Day Workshop, March 2016
By Rachel Laase, The Jeavons Center Assistant Mini-Farm Manager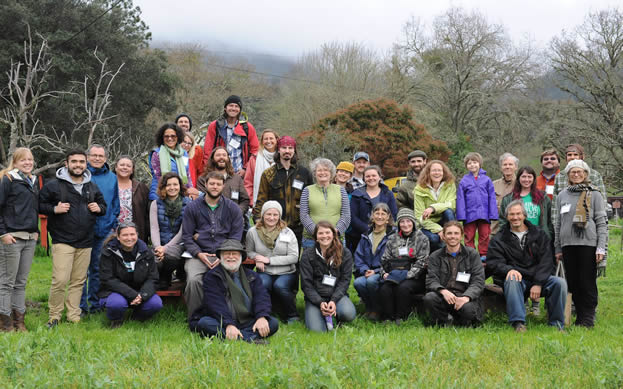 The Spring 2016 3-Day Workshop Participants, Willits, CA
PHOTO CREDIT: ROSE RAISER JEAVONS

---
On the weekend of March 4–6, 26 participants from all over the country and as far away as Oaxaca, Mexico, came together eager to learn more about GROW BIOINTENSIVE, hoping to empower themselves to take back the responsibility of growing their own food.

After group introductions, we knew this was going to be a special group. There were farmers from urban and rural areas, teachers, community organizers, homesteaders, and backyard farmers, all bringing a wide range of stories and experiences to share.

For three days, John Jeavons, the Ecology Action staff, and our friends Dan and Margo Royer-Miller, who were previous 3-Year Apprentices and staff members, taught classes ranging from the Current Global Crisis, the History and Philosophy behind GROW BIOINTENSIVE, to the Eight Principles of the Biointensive Method.

While the weather kept us inside for most of the weekend, we still managed to spend time in the garden so the participants could get some practical, hands-on experiences with techniques such as double-digging, pricking out seedlings, building compost, and cleaning grain.

Throughout the weekend we enjoyed delicious meals prepared by Rachel Britten and Jes Pearce, giving the participants a taste of what a 60/30/10 diet could look like. I think it's safe to say they were all inspired and eager to learn more about Biointensive diet designs!

After three full days of lecture and garden demonstrations, we ended the workshop by giving the participants the opportunity to take everything they had learned (and tasted!) and use it to create their very own diet designs.

Although three days is a short amount of time, friendships were created, and much knowledge and many experiences were shared among the group. The 3DW is always inspiring and a beautiful reminder of why John has dedicated his life to this work and why many of the EA staff have done the same.

Even though there were some topics discussed related to the destruction of the environment and global starvation, the Ecology Action staff always leave the 3DW filled with gratitude and joy, knowing that the GROW BIOINTENSIVE community has expanded and that there are many people out there doing such incredible work who want to make a positive difference in their communities.

---
top | Newsletter Home | Article Index | Archive