Commonwealth Garden—Growing for Wellness
By Leslie Roberts, Editor, in collaboration with Ananda Johnson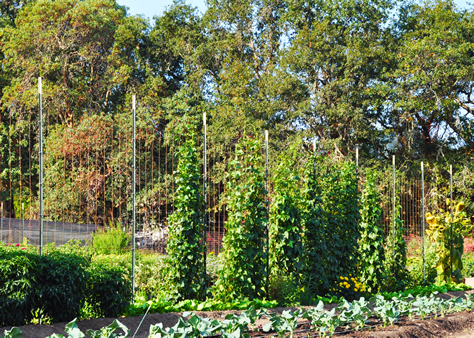 Green beans on the fence at the Commonwealth Garden
PHOTO CREDIT: Commonwealth Garden Staff

---
I recently had the opportunity to visit the Commonwealth Garden here in Willits, which delivers 100% fresh, organic produce to the Frank R. Howard Memorial Hospital (HMH).

Ananda Johnson, founder and Garden Director of the Commonwealth Garden, oversees all aspects of the operation. Her gardening education started at the side of her grandmother and continued through the years as she studied Rudolph Steiner's biodynamic approach to farming, gardening, and food and nutrition. In the late 70s, she also studied and worked with John Jeavons at the Syntex Garden in Palo Alto, California.

In 1999, Ananda and her husband, Keith, moved to Willits. Ananda recalls, "I had no idea John Jeavons and Ecology Action's Headquarters were in Willits. I had this sense of coming full circle. I decided to attend Ecology Action's 3-Day Workshop to renew my understanding of GROW BIOINTENSIVE mini-farming."

In 2005, Ananda became involved in the fundraising efforts of the Frank R. Howard Foundation to build a new hospital in Willits. During this time, Ananda proposed the idea of growing food for the hospital to a friend, and together they gathered other community volunteers who wanted to participate, Ellen Bartholomew, Manager of the Golden Rule Biointensive Mini-Farm, among them. Together they developed a business plan that was accepted by the Foundation's Board of Directors, and Commonwealth Garden began its journey toward the goal of feeding hospital patients organic produce. "I had always loved being involved in growing organic produce, but now, knowing it was going to feed hospital patients, well, this provided a larger purpose that gave deeper meaning to my lifelong gardening pursuit."

The day I was there, people were preparing soil for seedlings, pricking out from flats and transplanting crops from the greenhouse to the garden. Like most days, it was busy, and a lot got done in a short amount of time. It was my first glimpse of growing food on this scale, and the pace to get the large number of seedlings transplanted into the ground was brisk. When I asked how all the work got done, I was excited to hear that Rachel Britten and Justin Bartolini and the current interns from the Golden Rule Mini-Farm had come and helped just that week.

There's a foot trail that runs alongside the creek, next to the garden. It's meant to be a healing place where everyone is welcome to come and sit on the bench overlooking the young fruit orchard, or stroll around enjoying the peacefulness there. Ananda continues, "Research shows that therapeutic gardens actually improve clinical outcomes, often helping patients leave the hospital sooner, take less pain medication, and suffer fewer complications. Being in a garden can be part of the healing process."

In 2014, HMH was the only food-to-patient garden of its kind in the nation. A turning point in the food-to-patient program came when the hospital hired a chef to cater directly to the patients; offering a menu to choose from as opposed to the usual cafeteria fare. The garden works closely with Chef Kyle to design seasonal meals intended to highlight the bounty of the garden at the time.

Each year, as time and funding allow, the Commonwealth Garden team is able to do more, and there are plans to include additional GROW BIOINTENSIVE techniques; compost crops will be introduced, and the garden will begin using fewer inputs from off site.

Ananda shared, "It's exciting to be a part of this project. The longer we garden here, the stronger our understanding of what works in this climate, and what doesn't, becomes. We're all looking forward to what next season will bring and we hope our efforts will be an example to other communities. Growing organic food to feed those in a hospital can really work!"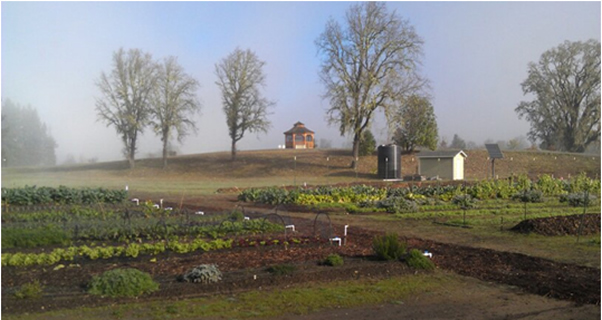 Early morning at Commonwealth Garden
PHOTO CREDIT: HMH Executive Chef Kyle Evans

---
top | Newsletter Home | Article Index | Archive