Book Review:
The Haiti Experiment by Hugh Locke
from Karen Gridley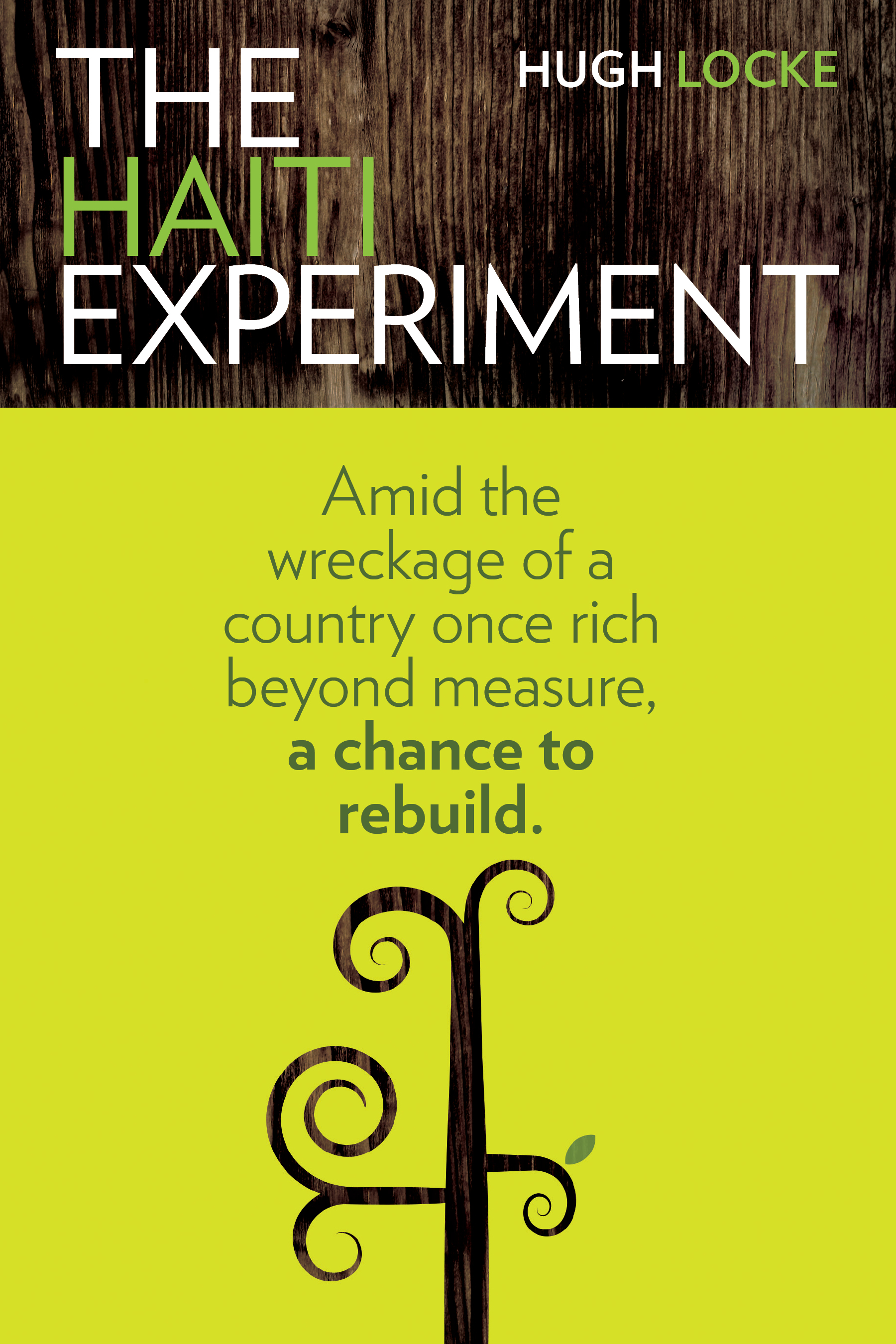 The Haiti Experiment by Hugh Locke (Hawkeye Publishers, 2012; $14.99).
Image: https://www.smashwords.com/books/view/229863
Author High Locke is an old friend of Ecology Action, having collaborated with us in 1989 on the writing and publication of Man of the Trees, The Selected Writings of Richard St. Barbe Baker.
After years of working on the administrative and policy side of humanitarian service, Hugh Locke decided to place himself in the field, to try out his own set of skills and values. He teams up with a Haitian celebrity, hip hop musician Wyclef Jean, and together they form a non-profit called Yéle Haiti, which captures the imagination of the Haitian population because of its adulation for native son Wyclef, returned to help his people.
Early in the book, Locke provides the reader with a concise account of the tortuous and tortured history of Haiti, this half island in the Caribbean that was once a rich country with a lush tropical forest, but has now devolved into the poorest nation in the Western hemisphere, with a nominally functioning government, a demoralized population and a host of donor agencies doing their own thing.
Locke traces the success of Yéle Haiti's projects amidst the broken structure of Haiti society, as they implement programs for food distribution, school and educational improvements, and even a successful garbage collection campaign.
The author offers a clear analysis of how the industrial food system and Free Trade Agreements have sacrificed local small farmers in favor of cheaper food imports from rich nations. This model has failed spectacularly in Haiti, which went from being largely self-sufficient in producing its own food in the mid-1980s to now importing 58% of the food it consumes. Locke finds it unbelievable, and unacceptable, that none of the billions of dollars spent on Haiti before and after the earthquake have gone to increase local food production or to assist local small-scale farmers. The sorry state of the country's agricultural sector was matched by a decrease in tree cover, with only 2% remaining by 2008. Every major storm sends water cascading down denuded hillsides and creating flood conditions.
It's at this point that Locke sets in motion a new NGO called the Smallholder Farmers Alliance, with the backing of an environmentally responsible corporation and a Haitian agronomist. Together they devise a way to engage existing farmer associations to "pay" farmers to plant and maintain a certain number of trees on their land in exchange for improved seeds, tools and training, which helps the farmers increase crop yields. The Smallholder Farmers Alliance manages its own nurseries and seed bank, thus ensuring a self-sufficient system.
Locke's strategies for development, and his proposals to explore a new model of development assistance, are sophisticated and based on a participatory model, utilizing local farmers to implement and "own " the programs to ensure continuity over time.
Kudos to a good writer and a savvy development worker who is undertaking a daunting but much-needed task: land reclamation in Haiti, a goal St. Barbe Baker would surely be smiling upon.


---
top | Newsletter Home | Article Index | Archive