Compass Green Takes the Garden to the Students
by Justin Cutter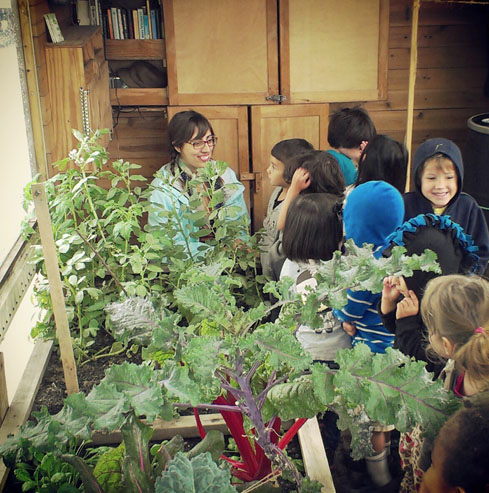 Elementary students visit the garden on wheels
In 2009 and 2010, Justin Cutter helped found the Green Belt Team and set up the mini-farm on California's Mendocino Coast. In 2013, he and his friend Nick Runkle started Compass Green. This update on Justin's 2014 activities with his portable classroom was taken from his blog at http://compassgreenproject.org/.
Compass Green is a school garden on wheels. It is a fully functional greenhouse built in the back of an 18-foot box truck that grows vegetables, grains, and herbs and is powered by waste vegetable oil. We teach practical farming tools and raise awareness on sustainability through presentations, workshops, and greenhouse tours at schools, and at events across the country. We feel that everyone, regardless of demographic and age, should have access to sustainability education and delicious healthy food.
Our curriculum is focused on the GROW BIOINTENSIVE method of sustainable farming —producing the maximum yields with the minimum amount of resources.
Our spring tour was fun, exciting, compact, and the most localized tour we've ever done, with almost all of the gigs at schools in the Sacramento and San Francisco Bay areas, in California, with the exceptions being Capitola, Napa, and Santa Barbara.

During March and April, we had an intense schedule that found us teaching 3,600 students at 19 schools, and literally thousands of people at the Santa Barbara Earth Day Festival and the San Francisco Maker's Faire, as well as numerous people we interacted with on the street wherever we parked the truck.

I had the great support of several teaching assistants, especially Dana "Purple Potato" Biederman who came on the road with me. Dana has  a special way of interacting with kids and youth that brings spontaneity, depth of knowledge, and an ability to connect with students. She has had an exceptional amount of life experience all over the world and is highly accomplished in the field of Enviro/Garden Ed, having worked at Slide Ranch and the Gateway Mountain Center. Her teaching enthusiasm, experience, and ability to listen to the students and speak to them rather than at them were  true assets along the tour. She was an awesome co-pilot and adventurer in and out of the classroom. She is also responsible for making "Kale yeah!" a permanent part of Compass Green's vocabulary.
After taking a deep breath, and looking back at a job well done, we are now turning our attention to the future. Compass Green has gotten a lot of publicity, with an article in Sunset Magazine, and interviews on KFOG radio in San Francisco and Good Day Sacramento morning news. In the last month and a half, over 150 schools have contacted me to arrange a Compass Green visit. Seeing what a large impact we had on a relatively local tour, we are reaffirmed in our desire to create a fleet of greenhouse trucks in twelve regions around the USA and may begin work on a second truck in the summer of 2015.

In the meantime, we are planning a twenty-school tour beginning in October, traveling through Oregon and Washington states. We're working with the Oregon Department of Education (they actually have a School Garden Coordinator!) to make sure that our tour serves the areas that can most benefit from our mobile program, and we have some people on the ground directing us towards different Washington schools.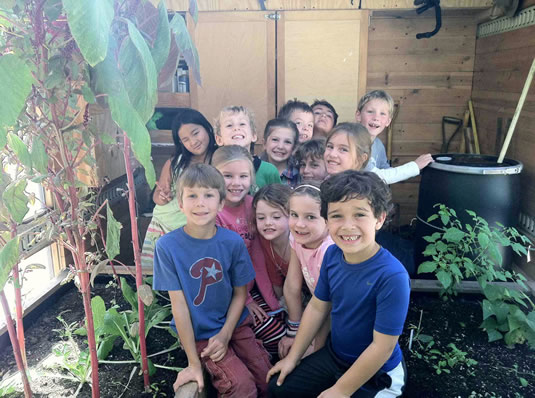 Happy Sprouts in the Compass Green Garden!
---
top | Newsletter Home | Article Index | Archive