Palo Alto Store Provides Roots for an Evolving Ecology Action
by Betsy Bruneau, Karen Gridley, and Patricia Becker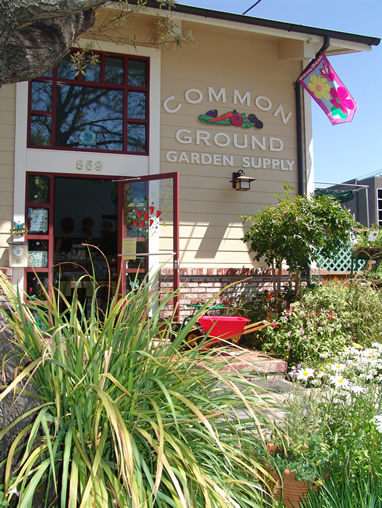 Inviting entrance to CG Center.
The following is a summary of the beginning of Ecology Action, Common Ground Garden Supply and Education Center and Bountiful Gardens catalog sales, and how the Palo Alto community served as a base for a larger vision. This information came from Betsy Bruneau, a participant in Ecology Action from its beginning and co-founder and co-manager of Bountiful Gardens.
An oil spill in the Bay Area over 42 years ago provided the impetus for a small group of concerned activists in Palo Alto, California, to get involved in cleaning up the environment. After the spill was cleaned up, the group sought out other ecological projects and called itself Ecology Action of the Midpeninsula. The Palo Alto group's first endeavor was a recycling center operated out of a rented warehouse, using an old truck. This program proved very successful and was taken over by the City of Palo Alto, which now has a thriving model recycling program.
For its next project, the group talked of renting or buying a house, to be called "Earth House", where staff would live and also garden, compost, recycle, keep bees, ride bikes and teach classes about living an ecologically sound lifestyle. When John Jeavons came to his first meeting, he suggested opening an organic garden supply store, thinking that sales from the store would cover the rent and the space could double as an educational center.

In 1972, EA rented and remodeled an old Chinese restaurant and opened a center called "Common Ground." According to Betsy, "none of us had a plan, but we started small, selling organic fertilizers by the pound, untreated seeds by the spoonful, and some basic, high-quality tools. Customers helped themselves and weighed their purchases. In the beginning, staff was paid $25 dollars per week, and if the store sold $100 dollars in a day, it was considered a crowning achievement!"
About this time, the City of Palo Alto brought Alan Chadwick to the city to create a community garden. The Ecology Action group was inspired by Chadwick, his philosophy and method of Biodynamic/French Intensive gardening. This led them to search for a garden site in Palo Alto that could serve both as a research garden for experiments and a demonstration garden from which to educate. The first garden was on land offered on a temporary basis by Syntex Corporation, and classes on gardening were taught by Common Ground.Store.
When Syntex needed its land back in 1981, John Jeavons began to search for an affordable piece of land in a rural area where he could establish a permanent research garden—with the possibility of building the soil over time—and developing a self-sufficient lifestyle for both his family and those wanting to study with him.
About the time that Ecology Action moved to Willits in 1981, Betsy and Bill Bruneau started a mail order organic seed and supply company, to be an extension of Common Ground. They started small from their own garage with just a few seeds and books and took the name Bountiful Gardens. In 1984, as their business grew, Bill and Betsy also moved to Willits to fulfill their own homestead dreams and stay connected to the research garden.
In the meantime, the Common Ground Center was doing very well, and all parties agreed it was important for it to stay connected to an urban center and to the roots of the organization and the base of people who believed in and supported Ecology Action from the beginning.
Today the Common Ground Garden Supply and Education Center continues to carry on the legacy of the original Ecology Action vision. The Center supplies thousands of customers every year with high-quality organic fertilizers, tools, seeds and publications. This past year, the Center offered over 40 classes and events for up to 900 people, taught by talented teachers from around the Bay area and from Willits. A Common Ground GROW BIOINTENSIVE garden has been re-established nearby which provides a site for hands-on double-digging, composting and other classes.
(Read more about Common Ground's programs in EA's May 2014 Newsletter... and also, go to www.commongroundinpaloalto.org)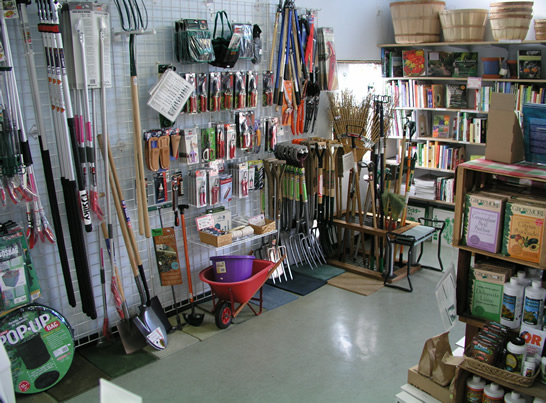 Tools, supplies and books displayed for sale at CG Center.

---
top | Newsletter Home | Article Index | Archive