Guillermina Guerin
Golden Rule Apprentice from Argentina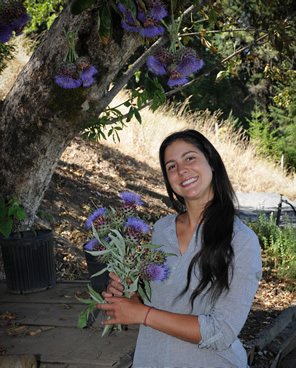 Guillermina harvesting cardoon blossoms
Guillermina or Mina, as she's known here, is transplanting carrots while she tells me about the work she does in Argentina using the GROW BIOINTENSIVE method. As she talks, she carefully measures the distance between seedlings using a small measure stick, so that all plants will be equi-distant from each other. Mina works with her brother on their 7-bed vegetable garden in La Plata City, about an hour outside Buenos Aires. Her brother, Alejo Mendez Guerin, is currently an intern at EA Headquarters Mini-Farm.

In La Plata, Mina helps out at their farm in many areas, from cooking to hosting to serving as field assistant. When she and her brother return to Buenos Aires, they are planning to start an organic seed company. She is looking forward to one of the EA field trips that interns and staff will take to the Sustainable Seed Company based in Covelo, CA, a company that grows much of its own seed.

Mina shares with me that one day during this past week, each intern prepared and ate the diet they had designed for their assigned bed at the mini-farm. Her bed design includes potatoes, garlic, carrots, tomatoes, quinoa and brown rice. She had to calculate what quantity of each crop she would need to eat in order to reach the equivalent of 2400 calories, the average daily adult requirement. Then she had to find the produce in the GR garden, or, if it is not available at this time of year, it had to be bought for this trial day.

Mina prepared and ate three meals, which she said were quite tasty. She had taken John Jeavons' sage advice: "Pick your diet with your heart." She did confess that she would love to have basil as a part of her diet, but it's not a "calorie-efficient crop!"
!


---
top | Newsletter Home | Article Index | Archive