Sustainable Agriculture and GROW BIOINTENSIVE Take Root at High School Mini-Farm
by Joe Stewart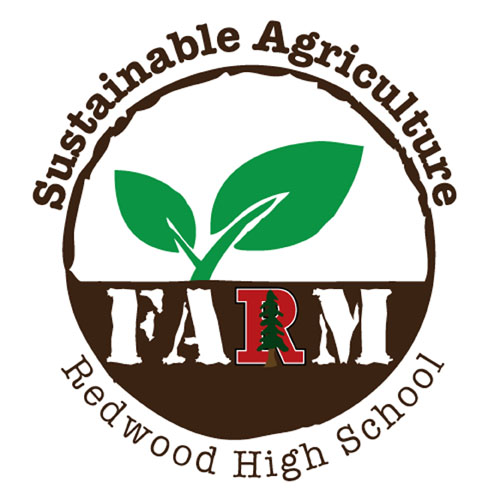 Joe Stewart is a science teacher at Redwood High School in Larkspur, CA, who started gardening at the school in 1997. To support the development of a mini-farm and course curriculum, Joe attended the February 3-Day Workshop in theGROW BIOINTENSIVE method at the Jeavons Center in Willits, CA. We received this overview fromJoe, explaining his efforts at Redwood High.
In the fall of 2013, Redwood High School reserved a quarter of an acre of the campus for long-term use as a sustainable farm. The mini-farm is presently used as an alternate study site for classes in Ecology. It is also a community project for parents, students and community members. Local non-profit organizations and Master Gardeners have partnered with the school to support this endeavor.
In conjunction with the establishment of the new mini-farm, a University of California college preparatory-approved science elective course has been designed. In this course, Sustainable Agriculture, students will learn where food comes from and the environmental and cultural impacts of its production. Students will practice and learn the science behind sustainable agriculture and techniques such as composting, seed saving, and water conservation.
I have worked to establish and create the new course and mini-farm. Using organic and GROW BIOINTENSIVE (GB) techniques, such as double-digging, I have incorporated the garden as an experimental study site in my Ecology classes for nearly 20 years. Throughout that time, students and community members clamored for more access to food-growing opportunities. The new mini-farm was born from this interest.

Redwood High School Students Working in the Garden

I plan to utilize GB on the farm and throughout the Sustainable Agriculture course. EA's GB methodology provides an excellent model for student mini-farmers because it has a long, well-documented track record of success with clear and replicable practices. There are minimal start-up requirements, making it relatively easy to integrate. In light of these benefits, How to Grow More Vegetables, an Ecology Action publication, has been approved as the course's primary textbook. Students will design and cultivate their own (approximately) 100-square-foot beds and quantify and document their success with 60/30/10 crop plans.
Despite the support that GB methods will provide, there will be unique challenges growing a farm on this school campus.  The mini-farm site is being built over a grassy field that was planted on landfill. The soil is thin, with a high and somewhat saline water table, and lacks structure and nutrients. These challenges will create difficulties, but will also provide important opportunities for learning. I hope to share my and my students' findings with Ecology Action.
The time is ripe at Redwood High to start a farm. Since October 2013, hundreds of students and community members have come to monthly volunteer work days to double-dig beds, apply compost, plant cover crop, and even do some initial harvesting this spring. Approximately 50 students have signed up for next year's Sustainable Agriculture course.
Looking toward the future, there is talk of further expansion—perhaps an interdisciplinary academy with history, English, and Spanish classes. Additionally, I'm in consultation with local non-profits about running summer camps for K-8 students at the farm when school is not in session.
It is an exciting time at Redwood High School where there are new opportunities to grow soil, plants, minds, and … to GROW BIOINTENSIVE.
Check out the RHS SustAg program on Facebook: https://www.facebook.com/redwoodsustag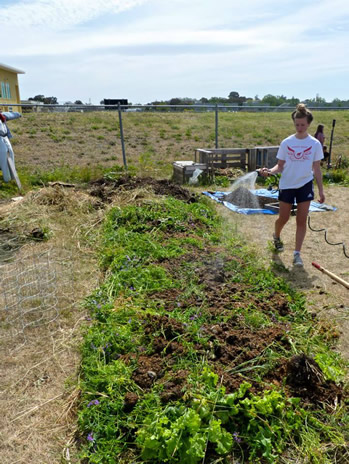 A Redwood High Student Watering a Garden Bed
.
---
top | Newsletter Home | Article Index | Archive