Gardens of Mercy: Creating a Culture of Love and Ecology
by Sister Esperanza Ortiz Macías

---
We received this inspiring letter (through our International Partner ECOPOL/El Mezquite) about how GROW BIOINTENSIVE is being used by an extraordinary woman to help people in need grow a better life in Baja California. Stories like this show what an important difference the GB teaching network—kind, dedicated people from a variety of cultures and climates—is making in our world. ¡Gracias, Hermana Esperanza!
---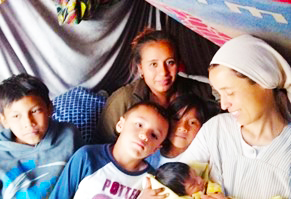 I am Sister Esperanza Ortiz Macías, Consecrated Virgin. I'm a devotee of prayer and of serving poor people. I have served them for 22 years and I currently belong to the Archdiocese in Tijuana. For 17 years I lived in a monastery of contemplative nuns in Tijuana, Baja California México. Countless migrant families that were living in exceedingly precarious situations turned to the monastery for help to meet their most basic needs, especially food and medicine.
Due to the demands of the mission, I studied to earn a bachelor's degree in Pedagogy at the Universidad Panamericana in Guadalajara. By the grace of God, I finished the degree satisfactorily and I had more tools to attend to the basic education and teaching of catechism to migrant girls arriving in Tijuana or Tecate, which I did for almost 7 years.
More and more families living in abject poverty came to ask for help. I was responsible for coordinating this help, and I was able to give them rice, beans, canned food, and some medicine at the most, but I knew that was not enough. Soon, they would be hungry again and the precarious salaries they were able to earn were not enough to feed their hungry children. Their need and suffering were clear; I also suffered and cried with them when I heard about all the difficulties they had to go through: their diseases, their needs, their hunger.
One day, after having seen a mother's suffering from having lost her baby due to a high fever that could not be taken care of because she could not afford to take her child to a doctor, I went to the adoration chapel to implore mercy and to ask God to provide me with the wisdom to be able to help his vulnerable children. Because giving them a little food and a little medicine was not solving the problem at all.
Suddenly, I felt in my heart God was answering my prayer: "Gardens"—he said— "teach them how to sow." I did not know how to do that. I had no idea. I had never worked in a garden and I didn't know anything about working the land, but a bright solution awakened inside me … a concatenation of ideas started to emerge: If they learn how to sow, they will be able to feed their families and themselves better. If they have their own gardens, they will be able to eradicate not only the misery they live in because of the fact that they are hungry, but also, they will be healthier because eating well will be their best medicine. What a wonderful solution! By growing their own food, they will stop depending on others little by little and they won't be the victims of injustice and inequality anymore! Thank you, God! Now tell me, what do I have to do? None of the nuns in the monastery knows anything about this! Show us the way so that we can create gardens and teach the poor! And so, a series of "miraculous" circumstances took place in my life so that I could learn. We were given a hundred fruit trees, and the next month, March of the year 2014, we had our first Biointensive garden. God brought Juan Manuel Martínez to us. He came to the monastery to teach a course about Organic Agriculture and the Biointensive Method of John Jeavons.
In 2017, I felt God's call. He wanted me to work more tirelessly to help poor people, especially children and teenagers. He wanted me to evangelize them, to love them, to educate them, to teach them how to live an ecological, healthy and sustainable life. So, I decided to leave the monastery of contemplative life and to become a modest missionary and take with me seeds of life and hope. I'm doing this with limited capacity, but bravely and decisively, and I'm giving my life to serve others and to teach them how to take care of our common house.
I have started a mission in an outlying area of Tijuana, it is called Invasión Nueva Esperanza (An "Invasion" of New Hope) located in the Vía Rápida Alamar Norte, Tijuana. There are more than 300 families in the area that live in poverty, and do not receive education and have not been evangelized. There are a lot of neglected—and some abandoned— children. This is why I founded a Civil Association called Jardines de la Misericordia A.C. (Gardens of Mercy) and through it I opened an Educational Center and a Home where they can be taken care of in a more comprehensive way.
I do not have funds to carry out this project, but I put it in God's hands because I trust his word: "Seek first the kingdom of God and its righteousness and everything else shall be added unto you" (Mt 6:33).
I'm deeply grateful for your support to be able to carry out this work of mercy. God will bless you abundantly.
♥

---
top | Newsletter Home |Table of Contents| Archive