Roasted Sweet Potato Salad with Chipotle-Lime Crema
By Shannon Joyner, Garden Companion Editorr

---
Autumn in Northern California means a mix of weather: some days are as hot as midsummer, while nights are getting chilly with the promise of winter. Autumn dinners are in the liminal zone between refreshing salads and warming roasted vegetables. This recipe covers the whole spectrum with a salad of arugula, cilantro, and scallions, warmed up with crispy roasted sweet potatoes and chickpeas seasoned with a gently spicy blackening mix, topped with crunchy roasted pecans and a creamy chipotle-lime cashew crema dressing. Yum.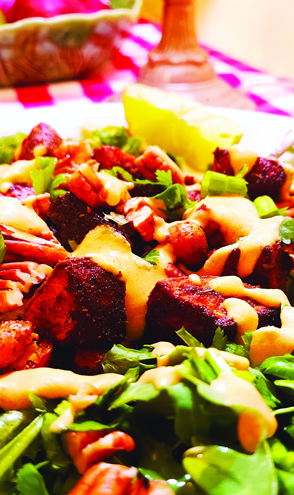 Ingredients (~4-6 servings)
½ c raw cashews
2 T nutritional yeast
1 t salt
Juice of 2 limes
½ t ground cumin
2 t chipotles in adobo sauce (to taste)
½ t smoked paprika
4 T olive oil, divided, plus more for drizzling
~1/3 cup of water
5 c baby arugula (or other hearty greens, torn)
1 cup chopped cilantro (can sub Italian parsley)
3-4 sliced scallions
2 medium-large sweet potatoes
1 (15 ounce) can chickpeas, drained and rinsed
(or 2 cups home-cooked)
1/2 cup chopped toasted pecans (can sub other
toasted nuts or seeds)
Blackening spice (mix together 1 T each ancho
chile powder and cumin, 2 t smoked paprika,
1 t each brown sugar, salt, and onion powder, 1/2 t each garlic powder, dried oregano, and thyme)
1 T Cornstarch
Lime wedges for serving
For the Chipotle-Lime Crema: Place cashews in a small saucepan, cover with water by ½ an inch, bring to boil over medium heat, remove from heat, add squeeze of lemon or lime juice, cover and let sit for 20 minutes. Drain. Place soaked cashews, nutritional yeast, salt, lime juice, cumin, chipotles in adobo, smoked paprika, and 2 T olive oil in a food processor with 1/3 cup of water. Blend until very smooth, adding a little more water bit by bit as necessary to achieve the pourable consistency of salad dressing. Adjust seasoning to suit your taste – add more salt, yeast, cumin, lime, paprika, or chipotle till it's how you like it. Set aside.
For the Salad: Preheat oven to 450◦F. Wash and dice sweet potatoes (peel if you prefer) into bitesized chunks. Toss with 1 T olive oil, ~2 T blackening seasoning mix, cornstarch, and a bit of salt until all pieces are covered evenly. Spread on a sheet pan or cast-iron skillet, and roast in the oven until tender and browned, about 25 minutes depending on your oven. Gently turn once or twice during cooking to allow all sides to brown nicely.
Toss chickpeas with 1 T olive oil and sprinkle with blackening seasoning mix and a bit of salt. In the last ~10 minutes of roasting time, place in the same pan as the sweet potatoes, stirring once or twice to make sure they're crisping up nicely.
Divide the arugula, cilantro, and scallions between 4 plates (reserve a small amount of cilantro and scallions as garnish). Top the greens with the hot roasted sweet potatoes and chickpeas, toasted pecans, and the reserved cilantro and scallions. Drizzle everything with a little olive oil, and dress with Chipotle-Lime Crema.
Serve immediately with lime wedges and extra crema on the side.
♥

---
top | Newsletter Home |Table of Contents| Archive