Mini-Farms Thrive as Demonstration, Training and Research Centers
From Ecology Action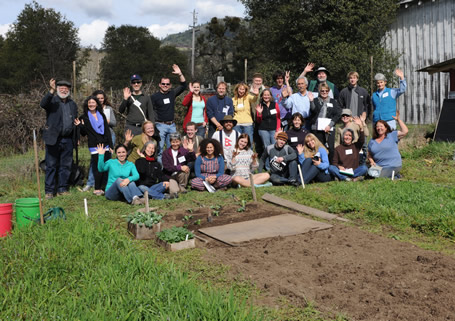 Three-Day Workshop participants gather for a transplanting demonstration at the Golden Rule Mini-Farm

For many years, when we spoke of the Ecology Action Mini-Farm, there was no doubt we meant Ecology Action Headquarters (EAH), nestled in a mountain hillside above Willits, California. This is still our organizational hub. However, during the last 12 years—as GROW BIOINTENSIVE teachers have spread the method globally—we have had opportunities locally to spread our work out into three satellite Mini-Farms. These EAH extensions have provided a variety of climatic and soil situations for testing the GROW BIOINTENSIVE® method and have also given us increased spaces for housing interns.
The Mini-Farms provide the framework for key aspects of Ecology Action programs, serving as:
Demonstration sites for the GROW BIOINTENSIVE method and each of its 8 component parts;
Centers for practical research, collecting data on seed propagation, transplanting, edible yields, biomass yields, seed production, etc. and carrying out trials of different crops, crop varieties, spacing, timing, etc.;
Sites for training, including hands-on experience and supervision for long-term apprentices, 2-month interns and 6-month interns, as well as providing the venue for 3-day workshops and teacher training workshops;
Mini-Ag Center/Soil Test Stations for monitoring each Mini-Farm's state of sustainable soil fertility.
Ecology Action Headquarters (EAH) Research Mini-Farm
The organization moved to Willits in 1981 from its starting place in Palo Alto, California. The Mini-Farm's land is extremely steep and was rated as only minimal for grazing. Our purpose was to demonstrate that, using the GROW BIOINTENSIVE (GB) method, food could be grown effectively on marginal land similar to what is available to subsistence farmers around the world.
Over time, the EAH Mini-Farm has thrived in this space, with a lush garden that demonstrates the GB method, and has been a place to develop and refine the method. However, because of soil, climate and water challenges, the EAH Research Garden has been limited in its ability to fully test the GB method. Also, as more and more people applied to become interns, we were lacking enough space to house them. Eric Buteyn from Colorado is now the manager at this site, after being a six-month intern in 2012.
Golden Rule Mini-Farm
In 2001 Christ's Church of the Golden Rule generously offered to let us use garden space and intern housing on its land at Ridgewood Ranch, south of Willits, in exchange for growing food for the community. This idea came from Charles Martin, an EA Board Member at the time who lived on the Ranch at the Golden Rule Mobile Home Park. The start of this second Mini-Farm has given us an opportunity to research the GB method on a valley floor with garden soil that has been taken care of for decades. It also allowed us to double the number of interns we train each growing season and has provided infrastructure where we now hold our Three-Day Workshops. Ellen Bartholomew, a member of the Church community, is the manager of the Golden Rule Garden, ably supported by co-field coordinators Lucas Howerter from North Carolina and Rachel Britten from Washington state.
Three-Day Workshop participants gather at transplanting demonstrations at the Golden Rule Mini-Farm.
Common Ground Garden (Mini-Farm)
The Common Ground Supply Store and Education Center in Palo Alto started at the same time as the original EA Research Garden in Palo Alto which had to cease operation in 1980 due to a construction project. It wasn't until 2007 that the Palo Alto Christian Reformed Church donated the use of some of their land to Ecology Action to start a garden for demonstration and hands-on training and as a site for some of the Education Center's classes. The Common Ground Garden has been developing into a model for GB urban food growing for the whole Bay Area and is also building partnerships with six schools—from elementary to middle and high school—within walking distance. Zuzanna Drozdz is the manager of the Garden, and Kathryn Rutti from California, who was an EA two-month intern in 2012, is starting a three-year apprenticeship there this year.
Green Belt Mini-Farm
Most recently, south of the town of Mendocino, California, Stanford Inn by the Sea invited EA to use part of its property as our fourth Mini-Farm. The Inn had been growing food with Biointensive methods for its restaurant for 25 years. Now named the Green Belt Mini-Farm, this new site offers an opportunity to research growing food in a maritime climate. Different crops are being trialed, ones better adapted to the humid, cool conditions of coastal fog. Matt Drewno from Illinois is the manager of this Mini-Farm.
Although housing in the Palo Alto area is challenging, each of these sites has spaces or ways to host interns. As a result, with our four Mini-Farms we will be hosting up to eleven six-month interns [from Mexico (2), Argentina (2), Kenya (1), Senegal (2), Sri Lanka (2), India (1) and the Island of Yap in the Pacific Ocean (1)] and eight two-month interns [from Colorado (2), Hawaii (1), California (2), Oklahoma (2) and Oregon (1)] in 2013. Also, with the four sites, we have been able to start collecting data on using the GROW BIOINTENSIVE system in a variety of climatic and soil situations.
Ecology Action is fortunate to have qualified staff apprentices at all four sites. They are introduced elsewhere in this issue. For an interview with Lucas Howerter, co-field coordinator at Golden Rule Mini-Farm, see the EA Newsletter, May 2012; for an interview with Ellen Bartholomew, Golden Rule Manager, see our August 2009 EA Newsletter.
---
top | Newsletter Home | Article Index | Archive