Eating Simply with Style: Ginger-Lemon Beet Soup
Created by Rachel Britten of Golden Rule Mini-Farm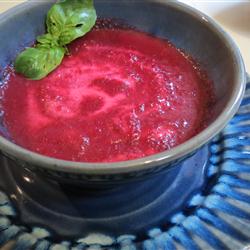 Feeds 8 abundantly.


Ingredients
4 tablespoons butter or oil
9 beets (2–2.5 inches in diameter)
4.5 cups chopped onions
4 teaspoons peeled and minced fresh ginger*
1 tablespoon finely grated lemon peel*
6 cups (or more) of beet water and low-salt chicken broth or vegetable stock
2 to 3 tablespoons fresh lemon juice

Directions
Place beets in a large pot and cover with water. Bring beets to a boil, then reduce heat to a simmer and cook until beets are very tender, about one hour or longer. Remove from heat; let cool. Meanwhile, melt butter in a large pot and sauté chopped onions until they are soft. Add 6 cups of beet water and stock to onions, along with quartered beets, ginger and lemon peel. Purée soup in blender, in batches, until smooth. Return purée to pot and reheat. Add 2 tablespoons lemon juice to soup and thin with more broth, if desired. Season with salt, pepper, and more lemon juice.

*If you like stronger flavors, add a little more ginger and lemon peel.

[Photo: http://allrecipes.com/recipe/beet-soup/]

---
top | Newsletter Home | Article Index | Archive