Book Reviews
By Mary Zellachild

---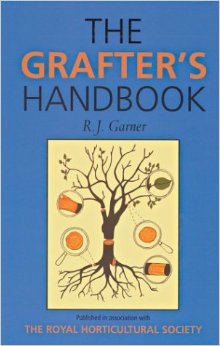 The Grafter's Handbook
by R.J. Garner (Chelsea Green, 2013).

This book was first published in 1947.This is its sixth edition, revised and updated by horticulturist Steven Bradley after the death of R.J. Garner. A review of an earlier edition by The Guardian states: "Mr. Garner almost certainly knows more about vegetative propagation of tree and bush fruit than any man on earth; and what is more to the purpose, he knows how to convey his knowledge clearly in word and line." This is a serious book for dedicated students and professional grafters, with a thorough coverage of the subject. Photos and line drawings clearly illustrate techniques and tools being discussed. A glossary at the beginning is useful for unfamiliar terminology.
IMAGE CREDIT: amazon.com/Grafters-Handbook-R-J-Garner
---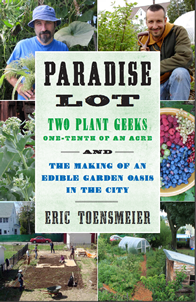 Paradise Lot: Two Plant Geeks, One-Tenth of an Acre and the Making of an Edible Garden Oasis in the City
by Eric Toensmeier with Jonathan Bates (Chelsea Green, 2013).

Available through Bountiful Gardens.
This is an enjoyable, interesting, and inspiring read. It's a tale of two Permaculture practitioners who set out to try their skills on a small urban lot with a newly built duplex, poor soil, and many unpromising features. Their goal is to create a garden that has food growing all year long, that they can browse and eat their way through. The book describes their work, plantings, successes, and failures year by year from 2000 to 2012. The two men are appealing as well as knowledgeable, and hold the reader's interest throughout the story. Not only do they succeed in their garden goal, but each finds a life companion along the way. The book is highly recommended. This reviewer was inspired to start to grow perennial food plants after reading it.
IMAGE CREDIT: amazon.com/Paradise-Lot
---
top | Newsletter Home | Article Index | Archive