Green Belt Mini-Farm Garden Report
By Matt Drewno, Green Belt Mini-Farm Manager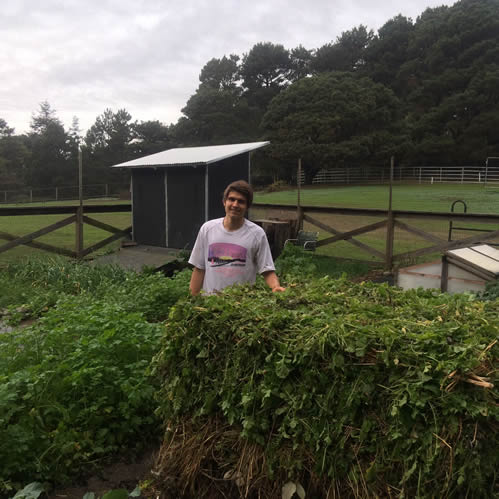 Joe Huber is Green Belt's new three-year apprentice.
PHOTO CREDIT: MATT DREWNO
In the Green Belt Mini-Farm at the Stanford Inn in Mendocino, California, we are putting our winter crops in the ground and cleaning seed for the community seed bank we established this year. Although months have passed, it feels like I was just harvesting the quinoa, flour corn and onions. We grew a lot of food this year!
And we also grew a lot of soil! We had some great yields of Banner fava beans. Our grains that overwintered last year also did quite well. These high-calorie, high-carbon crops are essential to building big, beautiful compost piles. In a certain sense, we are actually farming the air: growing plants that create a lot of biomass to then compost and turn into soil. This is the magic of the Biointensive garden and the secret to our success.
In addition to all the growing of food and soil, I also grew a bit myself. We hosted a 9-part, 2-month GROW BIOINTENSIVE® summer course that trained over 10 people in Biointensive food production. Our course attendees included 2 new staff members: Paul Higgins, our new Garden Manager in Palo Alto, and Colby Halligan, Farmer at The Jeavons Center in Willits.
In November, our most recent apprentice Joe Huber, from Viroqua, Wisconsin, arrived on site to begin his focused study. I asked him a few questions relating to how and why he got into agriculture.
"I found Ecology Action while I was at the MOSES conference in La Crosse, WI, in February of 2015, where John gave the keynote presentation. I had the same questions John had–what is the smallest land that I could grow my food on? They recommended I read How to Grow More Vegetables. I was immediately interested in the internship.
"I see the two most important aspects of a balanced life as the well-being of Nature and of our individual selves. When you look at the world you see the overuse of prescription drugs, diseases like malnutrition, starvation, and heart disease, and the contribution of the food industry to climate change. You see the common denominator among them all is food, and the food system needs to change. It needs to be a lot more sustainable."
When people are working in the garden, I am fond of saying, "Remember those who dug before you!" I say it because I have witnessed how this simple, hands-on, personally empowering, life-giving farming method has transformed a compacted, struggling soil into one that produces abundantly, throughout the year. Thanks to the love and work of all who have contributed to our beautiful garden. Observing this metamorphosis has given me great hope that a new world is possible, and it starts with each of us.
---
top | Newsletter Home | Article Index | Archive