EcoFarm Conference 2015
By Jes Pearce, Mini-Farm Coordinator at The Jeavons Center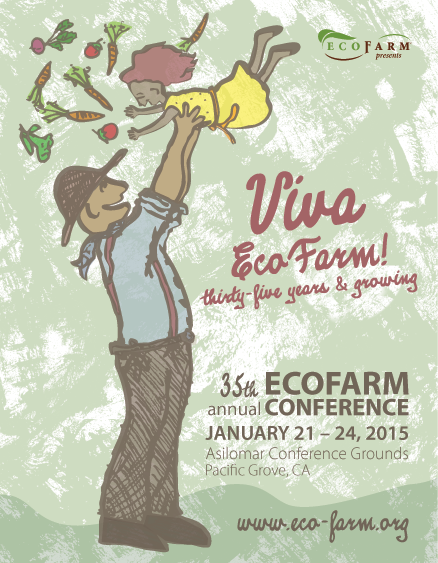 EcoFarm 2015 Conference Poster
This January I had the privilege to attend the 35th annual EcoFarm conference presented by the Ecological Farming Association in Pacific Grove, California. http://eco-farm.org. The mission of EcoFarm is to nurture healthy, just, and ecologically sustainable farms, food systems, and communities by bringing people together for education, alliance building, advocacy, and celebration. It is the oldest and largest ecological agricultural gathering in the western United States and offers more than seventy workshops, along with technical sessions. The goal of the conference is to support the success of the triple bottom line—social, environmental, and financially responsible—agricultural businesses.
A major theme of this year's conference was the importance of caring for our soils! It was not just about the importance of healthy soil for increased food production, but also sequestering atmospheric carbon. The speakers referred to concepts such as, "Soil represents the largest carbon sink over which we have control" and "Increasing organic matter on agricultural lands in the world by 2% would bring CO2 levels down to pre-industrial revolution numbers." People were discussing the National Resource Conservation Service's (NRCS) definition of soil health: "the continued capacity of soil to function as a vital living ecosystem that sustains plants, animals, and humans. This definition speaks to the importance of managing soils so they are sustainable for future generations. To do this, we need to remember that soil contains living organisms, that when they are provided the basic necessities of life: food, water, and shelter, they perform functions required to produce food and fiber." There were talks about the importance of cover cropping, growing and building your own high-quality compost, and carbon ranching.
Sustainability was defined as our ability to maintain the cycles of life. This ability starts with the soil. This is the conversation that Ecology Action has been having for the last 43 years, and it was so exciting to realize that this is the conversation that the entire ecological farming community is now engaging in! While the 1700 people in attendance may not be a lot compared to the global population, it's the foundation of a very strong and empowered community. These innovators are out there, and all we need to do is reach out and connect!
"If you want to go fast, go alone. If you want to go far, go together." African Proverb
---
top | Newsletter Home | Article Index | Archive