Midwestern Organic Sustainable Education Service (MOSES) Conference
By Ecology Action Staff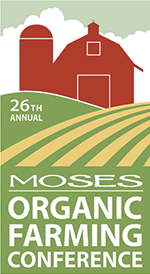 John Jeavons gave the keynote address and made other presentations at the Farming Conference sponsored by the Midwest Organic and Sustainable Education Service (MOSES) February 26-28 in La Crosse, Wisconsin. 3,500 farmers attended, with 85 presenters and over 170 display tables. The keynote was on Farming for the Future: Now, with John also giving a course on Planning and Marketing, and workshops on both Compost Power and Reduced Water Usage. A professional team videotaped key parts of the MOSES presentations and workshops. Participants included David Glenn, who knew Salik Naqibullah in Afghanistan (a former EA colleague, who was assassinated by the Taliban), and Randy Fish, former Field Coordinator at Golden Rule Mini-Farm, who is now directing a training farm in Texas.
There were also participants who expressed an interest in working with EA in some way: A participant from Haiti will be contacting Romel, a 2014 EA intern. A man from China wants to see biologically intensive practices return to his country and wants How to Grow More Vegetables, EA's short Farmer's Handbook, and our GROW BIOINTENSIVE DVD to be translated into Mandarin. He said the Chinese very much appreciate a "combination of practical conceptualization and quantification," and that EA publications contain this balance. After the conference, Lawrence Afere from Nigeria, one of the presenters—who had attended John's water conservation workshop—directed us to his website, springboardnig.com, which describes the organization he started to teach unemployed youth farming and entrepreneurship skills.
John, Cynthia, and Rose Jeavons, along with Green Belt Mini-Farm Manager Matt Drewno and Golden Rule Mini-Farm Co-Field Coordinator, Rachel Britten, represented Ecology Action at the conference. There were lots of good people, good energy, and many opportunities for introducing GB to a huge group of organic farmers from the US.
---
top | Newsletter Home | Article Index | Archive