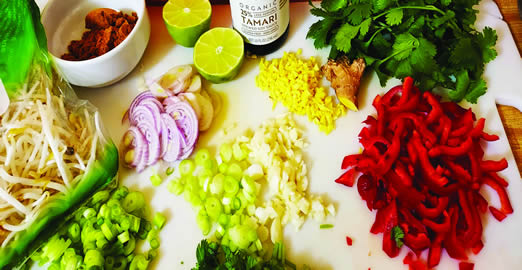 Spicy Rice Noodles
By Shannon Joyner, Garden Companion Editorr

---
Summer's here—that means potlucks, picnics, and foods that fuel without slowing you down. One of my favorite hot weather dishes is my adaptation of Cook's Illustrated "Singapore Noodles" (which actually come from Hong Kong, apparently). The spicy, savory rice noodles get their flavor from curry powder, garlic, ginger, and soy sauce. The original recipe calls for shrimp, but I like it with crispy fried tofu and lots of herbs. While it's traditionally served warm, it's also delicious chilled; it travels well, is light, but filling, and the spice level can be adjusted to your taste. Happy Summer!
Ingredients (~4-6 servings)
4 oz extra firm tofu
salt and pepper
2 T cornstarch
3 T vegetable oil
6 oz thin rice noodles
4 T toasted sesame oil
3 T curry powder (hot or mild, your choice)
3 T soy sauce (I use gluten-free tamari)
2 tsp sugar
3 cloves garlic, minced
A thumb-sized chunk of ginger, minced
1 red bell pepper, seeded, sliced into thin strips
1/2 purple onion or 2 shallots, sliced thin
2 cups mung-bean sprouts (can sub pea shoots)
2 cups mixed chopped cilantro, basil, and mint
4 scallions, cut into 1/2 inch pieces
2/3 cup vegetable broth
2 tsp lime juice
Lime wedges for serving

If the tofu comes in water, press and dry it thoroughly, then cut it into 1/2 inch cubes, season with salt and pepper, and toss with cornstarch to coat. Heat 2 T of vegetable oil in a 12-inch skillet or a wok, and fry the tofu, turning occasionally, until golden and crispy. Drain and set aside.
Heat 3 T of sesame oil and the curry powder in the skillet or wok over medium-low heat, stirring occasionally, until fragrant, about 2-3 minutes. Be careful not to burn it. Remove from heat, add soy sauce and sugar, stirring to mix. Set aside.
Bring 1.5 quarts of water to a boil. Remove from heat, and place the noodles in the pan, stirring briefly. Soak until the noodles are flexible, but not soft, about 2.5 minutes, stirring halfway through. Drain, and place in a bowl. Add the curry/soy mixture, and toss to coat.
Wipe pan to clean, heat remaining sesame oil until shimmering, add ginger and garlic, and cook stirring constantly until fragrant, about 15 seconds. Add bell pepper, purple onion, and white part of scallions, stirring frequently, until crisp-tender, about 2 minutes. Transfer to bowl with tofu.
Return pan to medium-high heat, add broth and bring to a simmer. Add the noodles and cook, stirring frequently, until the liquid is absorbed, about 2 minutes. Add tofu and vegetable mixture, and toss to combine. Add bean sprouts, chopped herbs, green part of scallions, and lime juice. Toss to combine, transfer to a warmed platter, and serve immediately. Or, chill for several hours if serving cold.
Garnish with lime wedges, serve with extra soy sauce, and enjoy!
♥

---
top | Newsletter Home |Table of Contents| Archive