Sustaining Our Work Into the Future
by Mary Zellachild
Lately we're seeing so much of what we've visualized materializing and expanding, like speeded-up photography of a flower opening. This has been mind-blowing and wonderful, and we are grateful. We are also aware that with the continuing intensification of world challenges, there is still much to be done.
We know the world needs a huge number of farmers, and our goal has been to inspire and teach farmers to use biologically intensive techniques that work in harmony with the Earth's natural cycles. Our intention to introduce more potential farmers to the Biointensive method led to our two-month internship last summer, which reinforced our belief that young people hunger to immerse themselves in something they can pursue passionately, something that will also serve a greater purpose.
Another essential component of our work is protecting the integrity of the GROW BIOINTENSIVE system. Those of you familiar with us know we have been researching, developing and refining this small-scale agricultural system for forty years, and that it's the basis of all our publications, workshops, internships and apprenticeships. The Biointensive method, though simple, is based on sophisticated techniques. Properly used, it can provide greater yields of food, while requiring significantly fewer resources than today's conventional agriculture. We keep working towards a sustainable system, which means learning how to build and maintain sustainable soil with adequate organic matter and nutrients to keep producing food into the future. In the Biointensive method, both organic matter and nutrients for the soil are produced in the process of growing food.

We understand that reality often intrudes for all of us in the course of everyday living and good intentions. Often, people, with their wonderful energy and visions, are not yet ready to take on a full commitment to the biologically intensive food-raising approach. They can also have conflicts between their vision and their understandable desire for a caring partner and family. However, even many young people are working on finding the balance between these sometimes disparate needs.
Also, although millions of people have learned how to grow food with the Biointensive method, many, for various reasons, use only two or three of the system's eight components, which can lead to soil depletion and a subsequent inability to grow enough food. Nevertheless, the number of people worldwide who have received GROW BIOINTENSIVE training and are choosing to devote their life to using the whole system is significant.
We look on this as a time of opportunity and hope. Over the years we've seen the consciousness of millions of people changing drastically, becoming aware of and addressing the darkness of global challenges while working towards alternate solutions. We are looking towards playing our own role in this "great awakening" by developing workable goals for the next ten years: First, we will encourage the development of one to three "trouble shooters" in each country, people with a deep understanding of whole-system GROW BIOINTENSIVE who will make a long-term commitment to being a teaching resource, helping maintain the quality of the system in their region.
Second, we will continue to train twomonth and six-month interns as well as apprentices. Our experience has been that these trainings have led to discovering committed people and connections that have made a huge difference. For example, Margaret Lloyd was an EA apprentice some years ago. Afterwards, she traveled and taught the method in the US and in other countries. In 2006 she was teaching GB farming in Guinea, Africa. Lamine Diawara in Senegal heard about her, got contact information, and as a result eventually took part in GB workshops in Kenya. In 2012 he became a six-month EA intern and is now poised to spread the Biointensive system throughout West Africa—a region comprising one-third of the African population.
Third, we have made plans to ramp up and increase our online trainings in order to reach and encourage the development of more farmers using biologically intensive methods in the US and other countries. Last, but not least, we are looking for staff who will make at least a five-year—and preferably a ten-year—commitment to create the organizational memory for this living system necessary to help us in the expansion of this work. We have found that long-term staff can enable others to better understand the background and whys of GROW BIOINTENSIVE Sustainable Mini-Farming. Longer-term staff reduce the amount of time we need to train someone new. And people who make this commitment are discovering ways of streamlining the GROW BIOINTENSIVE system to make it easier to learn.
We look forward to the next ten years, to combining our energies with all of yours to help create the world we want to live in. As Dee Hock (founder of Visa) observes, "If you want to predict the future, create it!"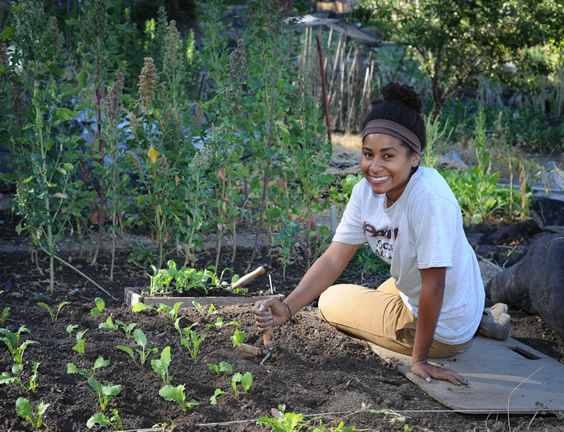 ---
top | Newsletter Home | Article Index | Archive