News From Colleagues
by Vince Fedeli and Karen Gridley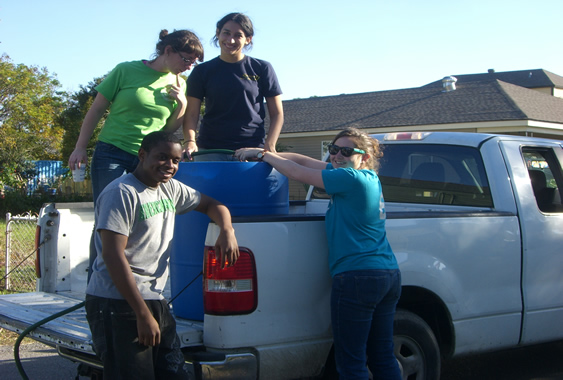 Volunteers helping with rain catchment barrels
Vincent Fedeli was a two-month intern in 2012, who came to EA from New Orleans, where he had originally been an AmeriCorps volunteer. He currently works for the Center for Sustainable Engagement and Development (CSED) in the Lower 9th Ward neighborhood of New Orleans, Louisiana. The CSED provides community-based support to neighborhood residents in all aspects of sustainability as part of long-term recovery and rebuilding efforts post Hurricane Katrina. Vincent sent us the following background material and a recent report of his activities. He also has a blog that can be accessed at http://blog.sustainthenine.org/.
My co-worker, Kathy Muse, and I have completed the Dauphine Street Orchard, Green Space Project. This project, funded by CSED, allowed us to acquire a blighted piece of property in 2011. The lot was severely deteriorated and a haven for drug use. After soil testing was conducted, we found the soil to be contaminated with high levels of lead. Our goal was to remediate the soil and to create a mixed-use Green Space that could be utilized by residents for rest and relaxation, the harvesting of fruit and the growing of perennial flowers such as roses and fragrant herbs.
With the help of community members, limited resources, and a ton of outside volunteer groups, we were able to transform this neglected piece of property into a beautiful neighborhood park over a period of 6 months. It has been open to the community for some time, and many people from the neighborhood now enjoy using it. We are in the process of writing a Do-It-Yourself (DIY) Handbook for people in the Lower 9th Ward to illustrate how property owners can beautify blighted lots, safely grow food, incorporate local recycled building materials into their design, and create a long-term lead remediation plan. Much of the contamination is due to lead paint. Online sources will accompany the text of the handbook.

The Dauphine Project would not have been possible without guidance from John Jeavons and John Beeby (former EA staff member and soil specialist). This is particularly true because of the soil contamination we face in the Lower 9th Ward and the fact that there is so much misinformation about how to identify lead in soil, and how to safely remediate it.
The project that I am currently working on is the renovation of a donated property that we intend to make into an Energy Efficiency Educational Center. I am also preparing to teach a solar energy after-school class for kids for the United States Green Building Councils (USGBC) Green School Challenge in the Lower 9th Ward. The end goal of this class will be the building and racing of solar-powered model cars.
Kathy is leading another project on four lots in our neighborhood next to Bayou Bienvenue. Depending on soil tests, we are considering a fruit orchard, garden or wetlands educational center.
Quote from the CSED "Dreams of an Orchard" proposal: "Our goal is the re-creation and re-population of a strong community, mindful of its resources and vulnerabilities, with an engaged citizenry that is active, resilient, prosperous, energy-independent and as beautiful as possible." I bought a house in the neighborhood and got married all at the same time! So as you can see, my life is super busy.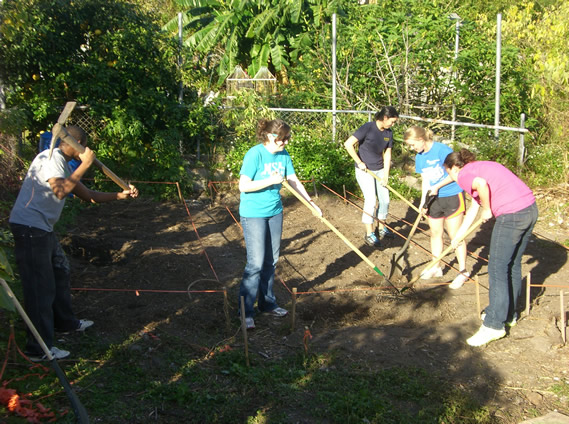 Volunteers carving out 5'x20' raised beds


---
top | Newsletter Home | Article Index | Archive