A Seed in the Garden: Alan Chadwick and His Legacy
Contributed by The Alan Chadwick Legacy Project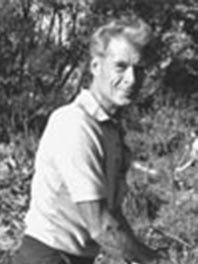 "There is one rule in the garden that is above all others. You must give to nature more than you take. Obey it, and the earth will provide you in glorious abundance."
― Alan Chadwick
---
An exciting new oral history project is underway to collect stories about the experience of learning gardening from a true master of the art, Alan Chadwick. Historian Dot Brovarney, who has worked in public history in Mendocino County for 25 years, has joined with two of Chadwick's Covelo Garden apprentices, Katrina Frey and Fred Marshall, to develop The Alan Chadwick Legacy Project.


The Project's primary goal is to document and share the stories of Chadwick's apprentices who trained with him in the 1960s and 70s at UC Santa Cruz, Covelo, Saratoga, and Green Gulch, California, and in Virginia. As these students reach beyond age 60 and up to 80, now is the time to capture their stories.
Known as an inspirational, if sometimes intimidating, teacher, Chadwick left deep impressions on his apprentices. That so many of them chose earth-based livelihoods is testimony to his great impact.

Apprentices work locally, nationally, and globally as gardeners, farmers, landscape designers, organic food advocates and researchers, agricultural and environmental stewards, and farming teachers. Some projects and businesses that can claim roots in Alan Chadwick's teachings include Ecology Action, Camp Joy, Fair Food Network, Smith & Hawken, Greens Restaurant, Frey Winery, Commonweal Garden, and Live Power Community Farm.


With the benefit of digital technology, oral histories are easy to share online. Edited audio highlights of the five completed interviews are available for listening on the Project website. Three storytellers are the people who made his garden teaching possible: Paul Lee (UC Santa Cruz Garden), Betty Peck (Saratoga Community Garden), and Richard Wilson (Round Valley Garden Project, Covelo). Two other storytellers are Chadwick apprentices: Fred Marshall who worked at the Garden Project and Stephen Decater who first trained at UCSC before coming to Covelo and eventually starting Live Power Community Farm.

To hear these stories and learn more about Alan Chadwick and his key role in the organic gardening movement, go to The Alan Chadwick Legacy Project website at: www.talkingchadwick.org
---
top | Newsletter Home | Article Index | Archive