Ecology Action's New Master Teachers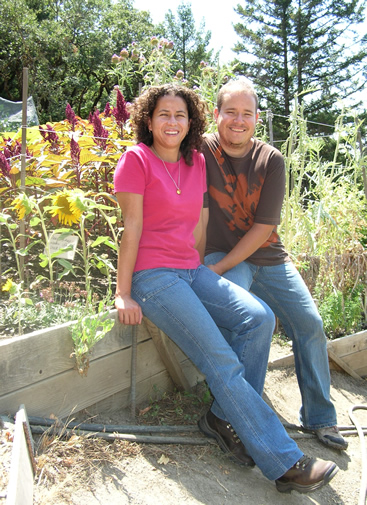 Marisol Tenorio and Agustín Medina
---
Agustín Medina and Marisol Tenorio were EA interns at the Golden Rule Mini-Farm garden in 2007. They have their own mini-farm—El Mesquite—in Aguascalientes state. Below is a report of their 2014 visit to The Jeavons Center and an update on their current activities.
Agustín and Marisol are currently working on their Masters degrees, Agustín in compost and soils, and Marisol in seeds. In the 7.5 years since the completion of their EA internship, they appear to have built up the soil organic matter percentage in El Mesquite soil at a rapid rate—about 5 times more rapidly than normally occurs in farming. Marisol, as part of her thesis, is comparing seeds grown with GB practices to seeds grown using conventional methods. She ran seed experiments relative to this research while they were here in 2014. Both Agustín and Marisol are working on peer review articles on their individual research, which will be published this year.
The couple was in Willits June 29 through August 29, 2014, for study and review towards their Advanced-Level Teacher Certification. During that time they met with John Jeavons twice weekly; participated in Summer Course classes regularly; worked and gave suggestions in The Jeavons Center Mini-Farm garden; and shared their experiences with staff, 3-year apprentices, and 6-month and 2-month interns. They also significantly assisted with teaching during the 5-Day Teachers Workshop and evaluated potential future emphases in Latin America with John.
In recognition of their excellent work towards further GB Teacher Certification, Agustín and Marisol were awarded their Advanced-Level Teacher Certification at the 5-Day Teachers Workshop's closing ceremony. In addition, it was determined they had reached the Master Level of Teacher Certification, and they were awarded certificates for this at the same time. The Master Level involves not just a great understanding of GROW BIOINTENSIVE, but, equally important, an understanding and feeling for Soil, Food and People perspectives locally and globally. It was an honor to present this award!
To date, John Jeavons has been the only person qualified to certify Basic-, Intermediate- and Advanced-Level Teachers, and Ecology Action is especially glad to now have not just one, but two, GB Certified Master Teachers in Latin America, to take on this important role. It means that the certification of GB teachers is in the hands of the Latin American people. This has been a long-term goal of EA, and we're excited about this accomplishment. It is also our hope that this will occur in North America, Europe, Asia, and Africa.
---
top | Newsletter Home | Article Index | Archive