Redwood Flat Seed Kit
By Bountiful Gardens Staff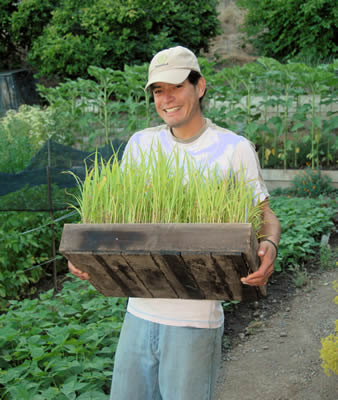 Make your own seedling flat from a kit.
PHOTO CREDIT: BG staff

---
Available from Bountiful Gardens, each Redwood Seed Flat Kit includes complete instructions, nails, and wood, and is made by a small local mill from recycled redwood. Flat material has been reclaimed from old barns, decks and even an old school bus stop shed—nothing compares to this old, well-weathered wood. Redwood flats stand up to constant contact with wet earth and last a long time with reasonable care. They are easily put together, with pre-drilled holes to prevent the wood from splitting.

Each kit makes one flat. Choose from 3 sizes. A standard flat will weigh about 40 lb when full of moist soil. A half flat will weigh about 20 lb, and is preferred by many of the garden staff. The deep flat will weigh about 40 lb and is useful for tomatoes, peppers, etc., that can grow fairly large for transplanting. The standard 3-inch-deep flat is featured in the picture above.
Related topics in this issue:
DIY Seedling Flats: step-by-step instructions on how to put together a seedling flat kit
How to Grow Seedlings Indoors: the basics on getting an early start to your garden!
Ecology Action's Garden Calendar: a rough guide on what to do, and when to do it!

---
top | Newsletter Home |Table of Contents| Archive